You probably have heard the saying of how to focus on "quality over quantity" since your childhood. Well, it rings true everywhere you go in your business. As an entrepreneur, you are expected to provide quality products and services to those who purchase products seek services from you.
Customers want to make sure that they are putting their money in the right place. Now, everyone can't be a master of everything and have the ability to evaluate the quality of everything they invest their money in. This is why they rely heavily on various indicators of success. This can range from certification, testimonials, word of mouth, and then some.
Providing great products and services will mean nothing if you can't provide legitimate certifications of their quality to your customers. This is where Quality Management System (QMS) comes into play. Wondering how it works? Let's dig a little deep into what it entails.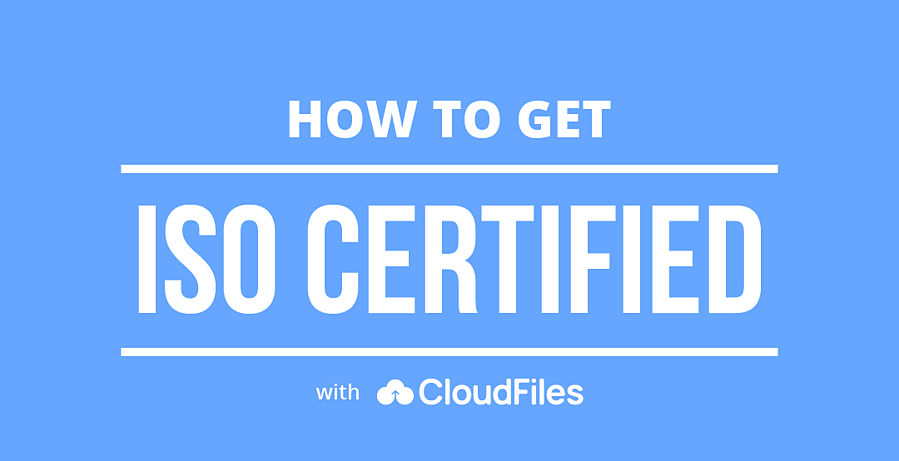 What is QMS?
QMS refers to a structural system that helps in documenting the various procedures and processes necessary for meeting the quality policies laid down by a regulatory body.
This system acts as a skeleton for how your company's product or service will be created, produced, and delivered. It is crucial to tailor it to your needs when you implement it in your company so that it is as specific as possible to your product or service.
For a Chief Information Officer (CIO), ensuring that the end product meets the goal of the business is paramount. And for that QMS is mandatory for your business.
What is ISO?
To maintain a universal standard applicable around the globe, businesses align their QMS with International Organization for Standardization (ISO). An independent NGO by nature, it is the biggest developer of voluntary international standards in the world. The standards laid down by ISO helps in deeming a product or service safe, reliable, and of acceptable quality.
Among the various documents in the ISO 9000 family of standards, the most sought-after one is the ISO 9001 one since it is the only one that needs certification, giving proof of the quality of the product or service you seek.
ISO applies to any and every organization, irrespective of its nature, size, or where it is from. The fact that a million different organizations from over 160 countries swear by ISO 9001 standard is a testament to how valuably it is regarded globally.
With ISO by your side, you can ensure that the:
The processes are organized.
The efficiency of the processes is improved.
And there is continuous improvement in each sector of production and delivery.
The newest standard of ISO was revised back in September 2018. Known as the ISO 9004:2018, this certification provides businesses with an even more advanced mechanism of implementing policies, strategies, and objectives to ensure quality products and services. With the ISO certification by your side, you can rest assured that no one can doubt the quality of your product and service.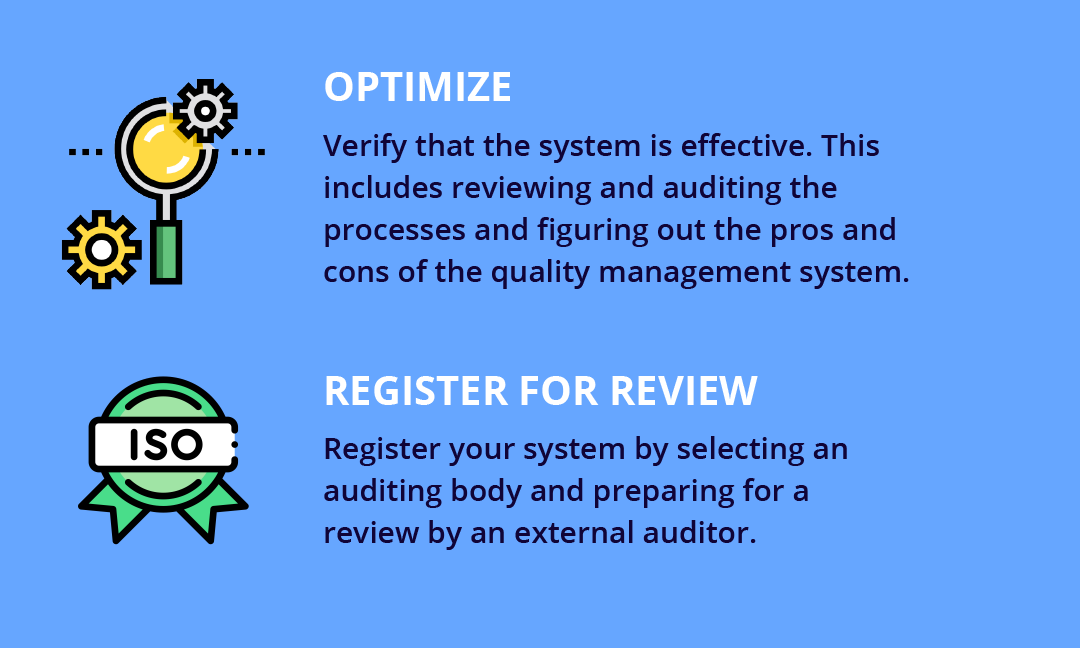 Speaking of the ISO certificate, this is a good segue to finding out how to obtain it.
How to get ISO Certified?
Getting ISO certified for your business is indeed no mean feat since it requires you to invest a lot of effort, money, and time. But at the end of the day, when you get more control and improved processes alongside higher credibility with your customers, it is all worth it.
Now, the process of getting this certification can be broken down into four broad steps.
First of all, you need a management system that would allow you to review, coordinate, and approve valuable documents related to your business among people who need access to it.
Secondly, you need to ensure that the system is implemented. This includes training of employees, carrying out procedures as they are described in the system, and the creation of corrective systems to facilitate corrective actions, among others.
Thirdly, you need to verify that your system is effective. This includes reviewing and auditing the processes and figuring out the pros and cons of the management system.
Fourthly and finally, you need to register your system by selecting an auditing body and preparing for a review by an external auditor.
How CloudFiles Can Improve Your QMS?
QMS is an extensive process requiring manpower, time, money, and everything in between. Internal documentation, which is a pivotal aspect of QMS, requires meticulous operation from your end for smooth and successful functioning.
The thing about documentation is that if one of your documents is not checked or incorrectly filed, then it can lead to a chain reaction of mistakes, getting out of which will require a Herculean effort. You WILL hit a wall if you are not able to organize the countless files perfectly on your email or whatever web hosting service you are using.
Needless to say, we could all use some help in this regard. And what better way to do that than a comprehensive file-sharing app like CloudFiles? Here's how it aids you in your QMS.
Hassle-free Organization with Data Rooms
When you are dealing with innumerable files containing a plethora of information, your main job is to avoid clutter. With CloudFiles data rooms, that job is taken care of without breaking a sweat. You can use these data rooms to import your files from multiple sources.
So, it doesn't matter where your data is (OneDrive, Dropbox, Google Drive, or your local storage), you can pull them at once in these data rooms. You can use a single link for sharing multiple files.
The best part is that these data rooms would mirror your documents, meaning whenever the original document is modified, changes will be made automatically everywhere else. Say goodbye to painstakingly making separate changes one by one in each file.
Seamless Replacement of Files on the Go
Flexibility is an important asset that any QMS needs to stabilize itself to the constant modifications taking place in a business. Every day, you might have to replace your files but are afraid to not confuse the staff and client with multiple links.
With CloudFiles, you can replace files (PDF, images, PPT, and docs) without having to replace your existing links. This allows you to make changes to your files on the go as well as share static links with concerned individuals while constantly updating them.
Automate Workflow
As we said previously, procuring an ISO certificate is a long and tedious process. Anything that makes it smooth and short is a welcome change. Automation can accelerate the process of obtaining certification for QMS to a great degree since when you make any changes to your document, all of the concerned individuals would be notified in their emails.
With manual notification out of the bag, you can fasten the process of verification, review, and approval. You can customize the way you want to automate your processes based on how many times a file has been viewed, opened, downloaded or even how much time the user has spent on it. It can't get smoother than that!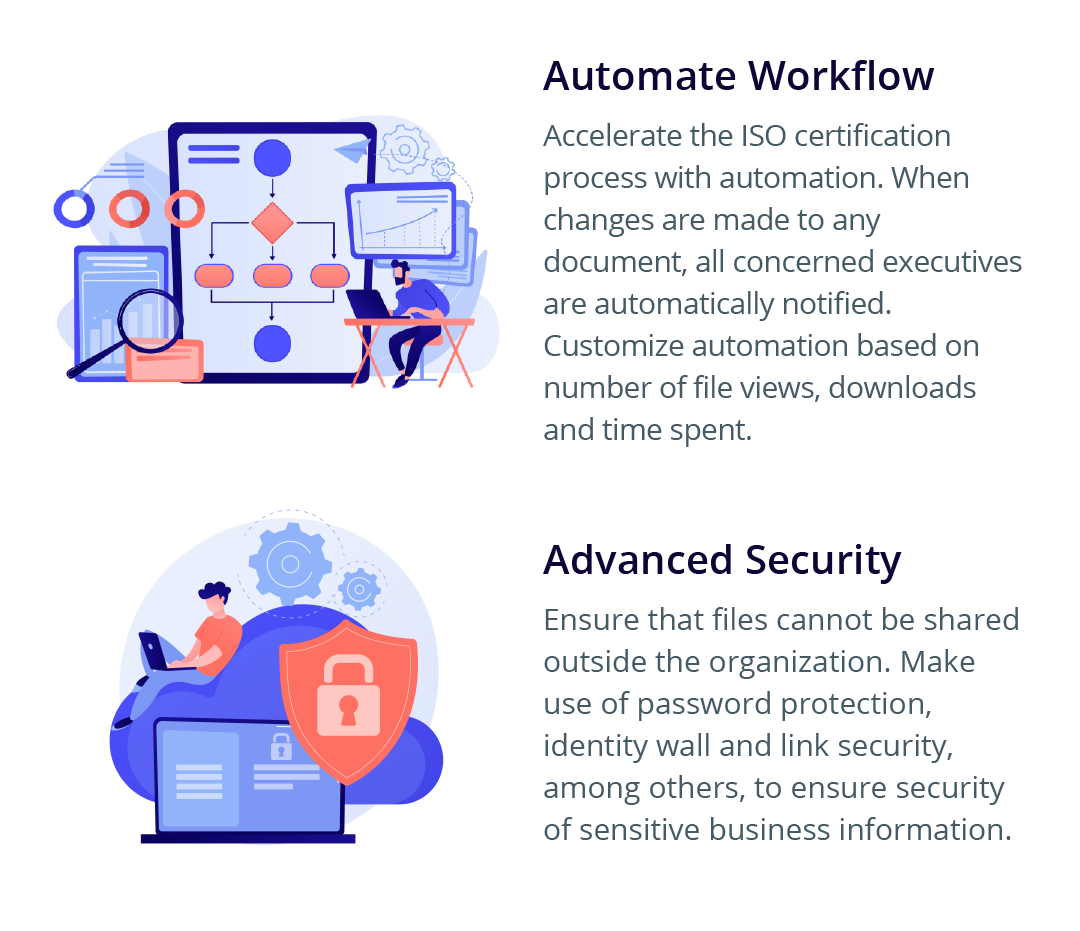 Secured Closet
Since you might be dealing with highly confidential data, you don't want them to get into the wrong hands. CloudFiles understands the value of security and gives you the ability to grant authorization for accessing, viewing, updating, and editing files.
You can make sure that your files can't be shared outside your work domain. Password protection, identity wall, and link security, among others, have been designed to ensure that you are on track with who is handling or mishandling your data. That is a feature you can't afford not to have in your QMS system.
Final Thoughts
For your products and services to thrive and earn the trust of your customers, you have to employ QMS in your business. And for your QMS to bring faster and smoother results so that you can obtain your ISO certification, you need the assistance of file sharing apps like CloudFiles.
In the intensely competitive economy we live in, there's always an alternative available. So, for you to make sure that your products and services are at the top of the mind of your customers, you need the stamp of approval of the ISO.
CloudFiles is the Genie to your Aladdin that makes reviewing, updating, sharing, replacing, and organizing internal documentation simple and hassle-free. As such, you don't have to deal with extreme stress at the time of auditing since you can rest assured that the documents are at the right place at right time in the right order.