Introduction
According to BetterCloud's State of the SaaS-Powered Workplace report 2017, more than 38% of companies heavily relied on SaaS technologies alone. With the growing digital penetration, the future looks vibrant for SaaS businesses. What is equally glaringly apparent along with the vibrant future of SaaS businesses is the competitive marketplace, which is growing exponentially.
The figures and the evolving tech signify only one thing – "only the fittest in the market will survive and thrive in this overly competitive SaaS marketplace."

It is essential to understand the marketing challenges and overcome them to sustain and excel in any business, especially so in the hyper-competitive SaaS space. Here are some most common SaaS marketing challenges and tips to navigate past them.
Top 5 SaaS marketing challenges
● Intense competition
With an industry growth rate of 500% over the past 7 years, the usage of SaaS apps in organizations has increased tremendously. From a mere 8 SaaS apps per organization in 2015, it is projected to increase to 80+ by 2025. The same study estimates that 85% of the software used by organizations will be SaaS alone by 2025.
Given the growth potential, there is still a lot of untapped market gap, which explains the fierce SaaS competition. Easy access to technology, widespread adoption of cloud computing, and thriving businesses are just a few reasons behind the intense SaaS competition. And from here, the competition is only going to increase.
● Cloning features
SaaS companies can't afford to rest on their laurels. The competitive landscape is only getting more competitive, and with it, the need for innovation is growing. But what's holding back your business?
Competitors are cloning features is one another common challenge most SaaS businesses struggle with. This is a significant obstacle for SaaS companies because it is tough to compete with your clones when you are trying to sell your product.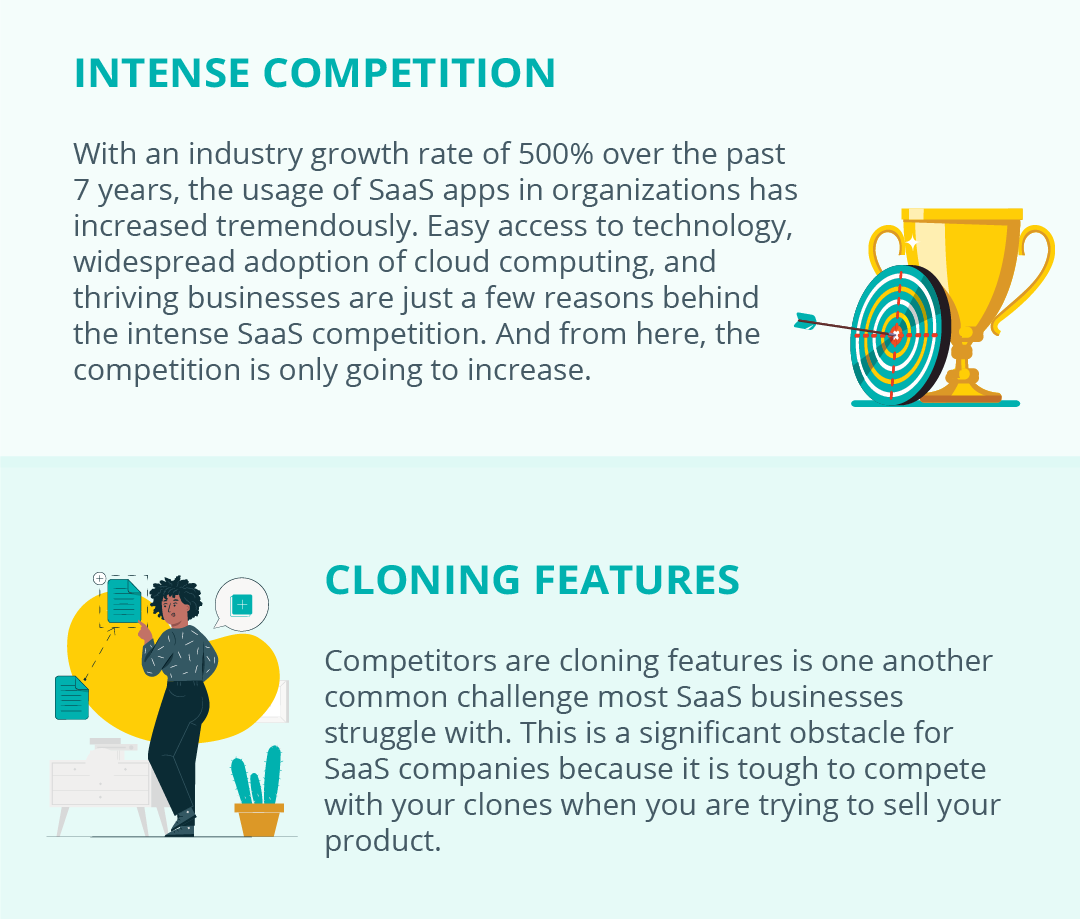 ● Customer experience
Customer experience is an important part of SaaS marketing strategy, but it is often overlooked. The reason for this is that SaaS companies are struggling to meet their customers' needs and create a cohesive brand experience that meets those needs. It is easy to see why: it can be hard to stand out in a market where everyone is trying to impress the customers with great customer experience. But if you don't make it a priority, you are leaving money on the table.
● Lack of competitive leverage
The most common SaaS marketing challenge is a lack of competitive leverage, a lack of a differentiator, and not knowing how to position the product for success. The lack of competitive leverage means that your solution is not unique or differentiated from the competition. It can be hard to stand out when you are in a crowded market. It istough when you are in a market where everyone is doing the same thing, and you can't offer a unique value proposition to change that.
● Targeting
You have heard that the best marketing happens when you are talking to the right people. But what if you can't figure out who those people are?
That is where prospect targeting comes in. Prospect targeting is a common SaaS marketing challenge because it ishard to figure out the right people to market to and why they would want to buy your product—even if you have a great product that solves a problem!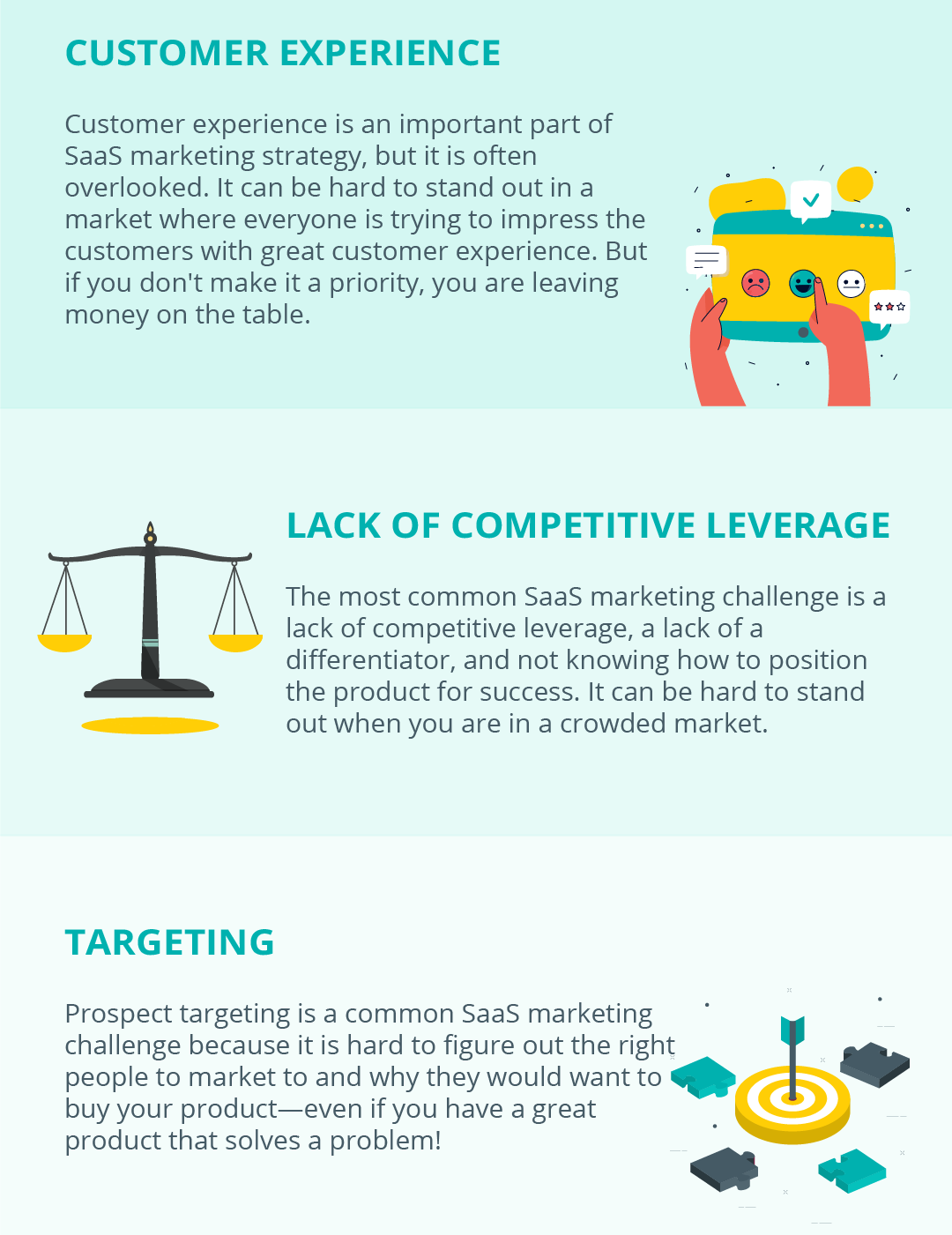 How to overcome these top 5 SaaS marketing challenges?

● Cut through the noise.
In the digital age, it is more important than ever to find new ways to cut through the noise and get your message heard. And one of the best ways to do that is by making your employees your brand ambassadors. We all know that customer referral is one of the most effective marketing strategies —but what if you could also harness the power of employee advocacy?
Turning your employees into brand ambassadors and giving them access to educational materials that will help them communicate with their networks effectively is a great step forward. You will be able to cut through the noise and get your message out there in a way that will resonate with your audience.
● Prioritize customer experience
As a SaaS company, you already know that customer experience is your number one priority. And we get it—you have got a lot on your plate. But guess what? When it comes to marketing challenges, customer experience is the solution.
Think about it: if you prioritize your customers' needs and wants, they will be more likely to buy from you again (and even recommend you to their peers). And if they are happy with their experience, they will be less likely to churn out your product.
In other words, when you focus on the CX of your customers first and foremost, everything else falls into place. Hence, prioritizing customer experience over features benefits you in the long run immensely.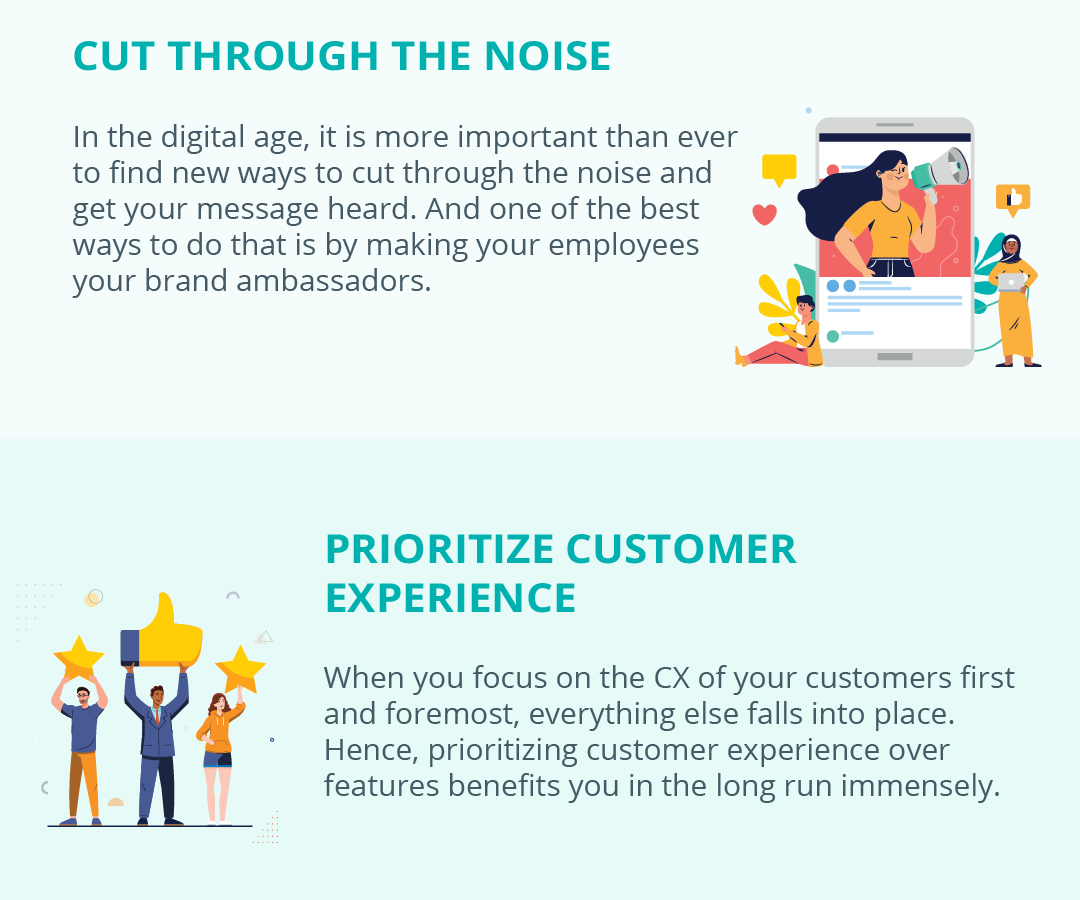 ● Value proposition
Unique Selling Point is a powerful tool that can help you tackle some of the most common SaaS marketing challenges. It allows you to target the right audience, in the right way, at the right time. A value proposition is a simple offering that tells your potential customers what problem your product will solve for them and how it does so.
If you can't clearly articulate the value of your product to customers, they won't buy it—and that's why so many SaaS companies struggle with marketing. It helps you focus on what makes your product unique in the marketplace so that you can stand out from the crowd and attract more customers than ever before.
● Data-driven decision making
Data-driven decision-making is the key to solving any problem and it is imperative when you are dealing with SaaS marketing challenges.
As a SaaS business, you are constantly working to improve your product and keep up with your customers' needs. When it comes down to it, data makes marketing work for SaaS companies. When you have accurate information about your customers—who they are and what they want—you have the power to create an effective strategy that meets their needs and increases sales!
● Market penetration
You need to find new customers, but you also have to convince them that your product is worth paying for. You can't afford to make mistakes or do things wrong because it will cost you time and money.
There are many ways to make sure your SaaS marketing is as effective as possible. One of the best ways is by making sure your onboarding experience is smooth - making them as simple and frictionless as possible.
When you offer a free trial, you give users the chance to try out your service and see how it works in action before they commit to paying for it. And when you make your free trial super-easy to sign up for and use, people are more likely to give your product a try. That means they will be much more likely to become paying customers once their free trial ends!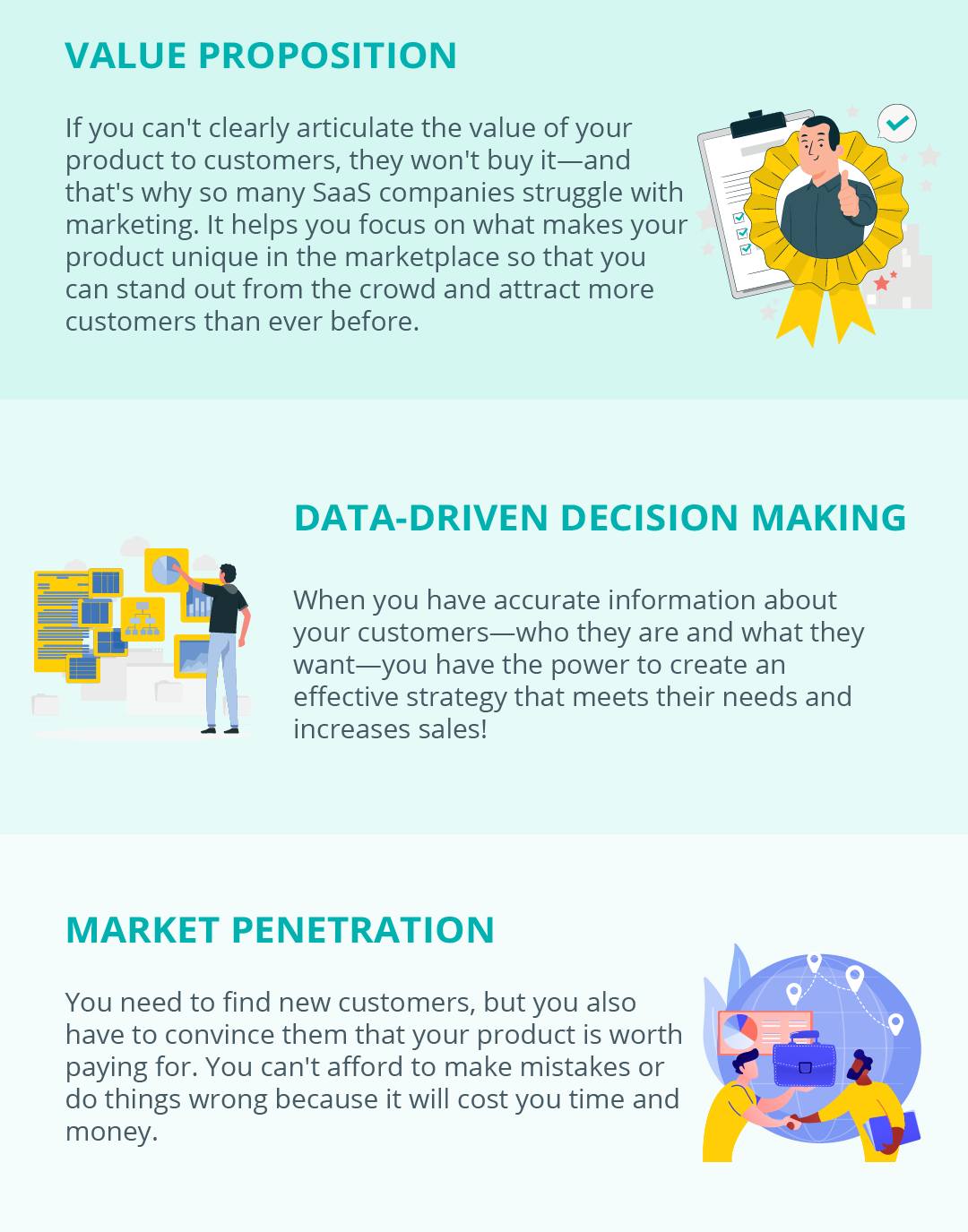 Conclusion
SaaS marketing is a complex and comprehensive process requiring you to do more than building your product. Even if you have the best product in the world, it is not going to sell itself—at least not right away.
SaaS marketing is all about getting people excited about your product and enthusiastic enough that they are willing to give it a try. It is also about building trust with potential customers. Hence, they know they are making the right choice when choosing your company over others—all about educating your customers, building brand awareness, and helping them find you.

Cloud files give you actionable insight into how your marketing messages and collaterals work. By providing you an in-depth view into prospect engagement with your marketing materials, CloudFiles assist you in gauging your prospect interest levels and personalizing your marketing pitch to improvise your ROI.