Have you ever taken the time to figure out how much time collectively you spend scheduling appointments and booking meetings, both professional and personal? Well, it might be a good exercise to do that since it is very much likely that you are wasting way too much time in doing these activities than is needed.
Scheduling tools, meeting apps, and appointment tools, whatever you call them, can help you in automating the process of scheduling meetings with your clients without depending on email responses to decide on a preferred time. Moreover, they also help in eliminating numerous administrative tasks that act as nothing but a burden to you.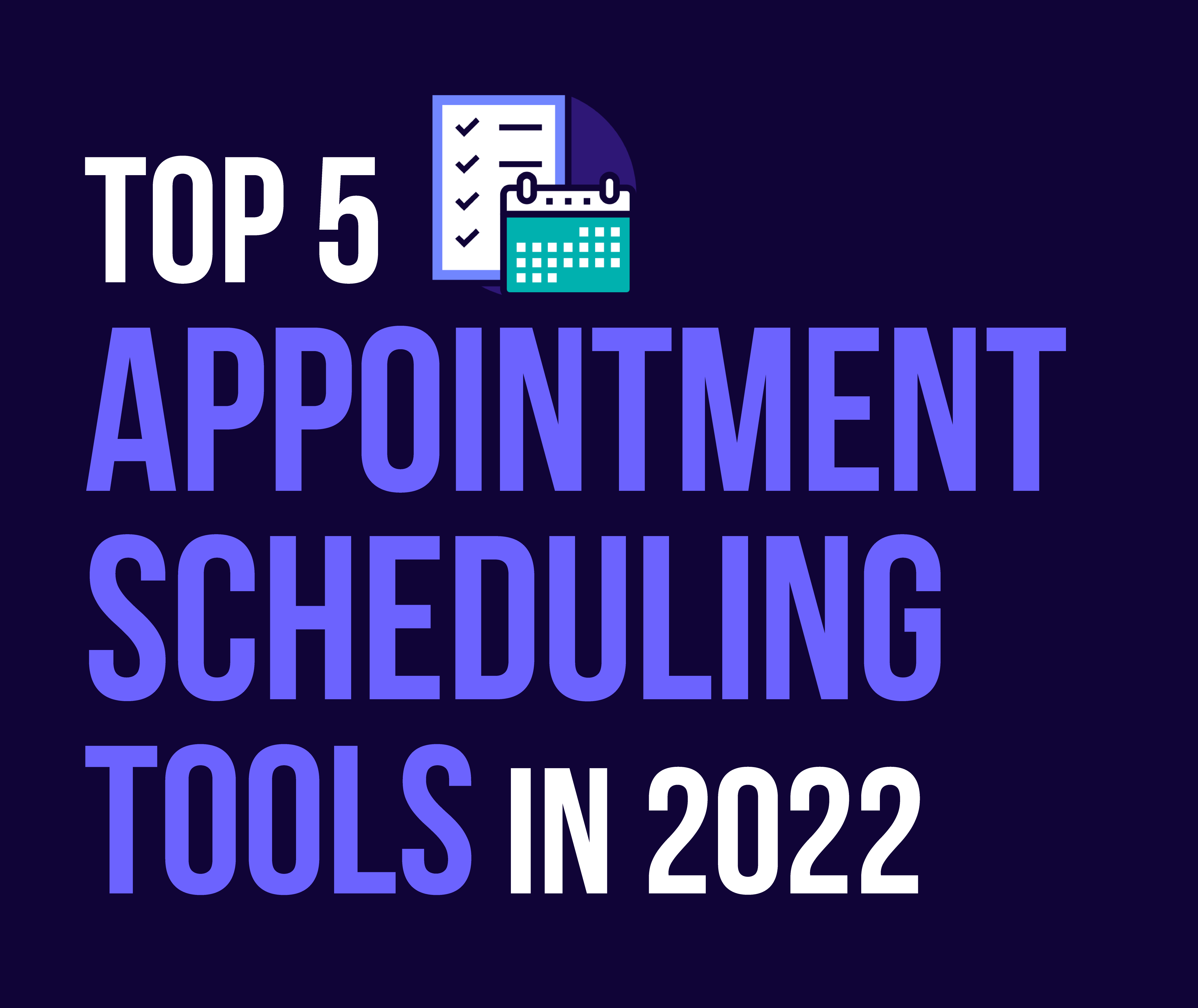 Therefore, we are presenting before you some of the best appointment, meeting, and scheduling tools that would assist you in booking meetings efficiently. These tools automatically remind you and your clients of upcoming meetings by syncing directly to your calendar so that neither of you misses out on attending them.
As an entrepreneur, you might have to deal with countless appointments which can make prioritizing meetings a taxing, and often, a confusing process. This is where you have to prioritize the interest of your customers in your product and schedule meetings accordingly.
And what better way to gauge the interest level of your customers than the analytics provided by CRM software like Cloudfiles? Offering you scientific ways of lead scoring, Cloudfiles is the assistance that will help you in figuring out which customers' meetings needs to be scheduled first to maximize profit.
So, with that being said, let us shift gears into finding out the top five scheduling tools, meeting apps, and appointment tools in the market currently.
Calendly
One of the most popular brands of its kind, Calendly comes with a clean interface that makes using it a hassle-free experience. It is available in three variants – basic (which is free to use), premium ($8/user/month), and pro ($12/user/month).
While the basic version allows you to connect to one calendar, the paid variants increase your opportunities by letting you connect with multiple calendars. With Calendly in your system, you can receive meeting requests, which is a great update from just permitting your contact to book a free slot. If you happen to accept the meeting requests, the same would be added to your client's calendar automatically.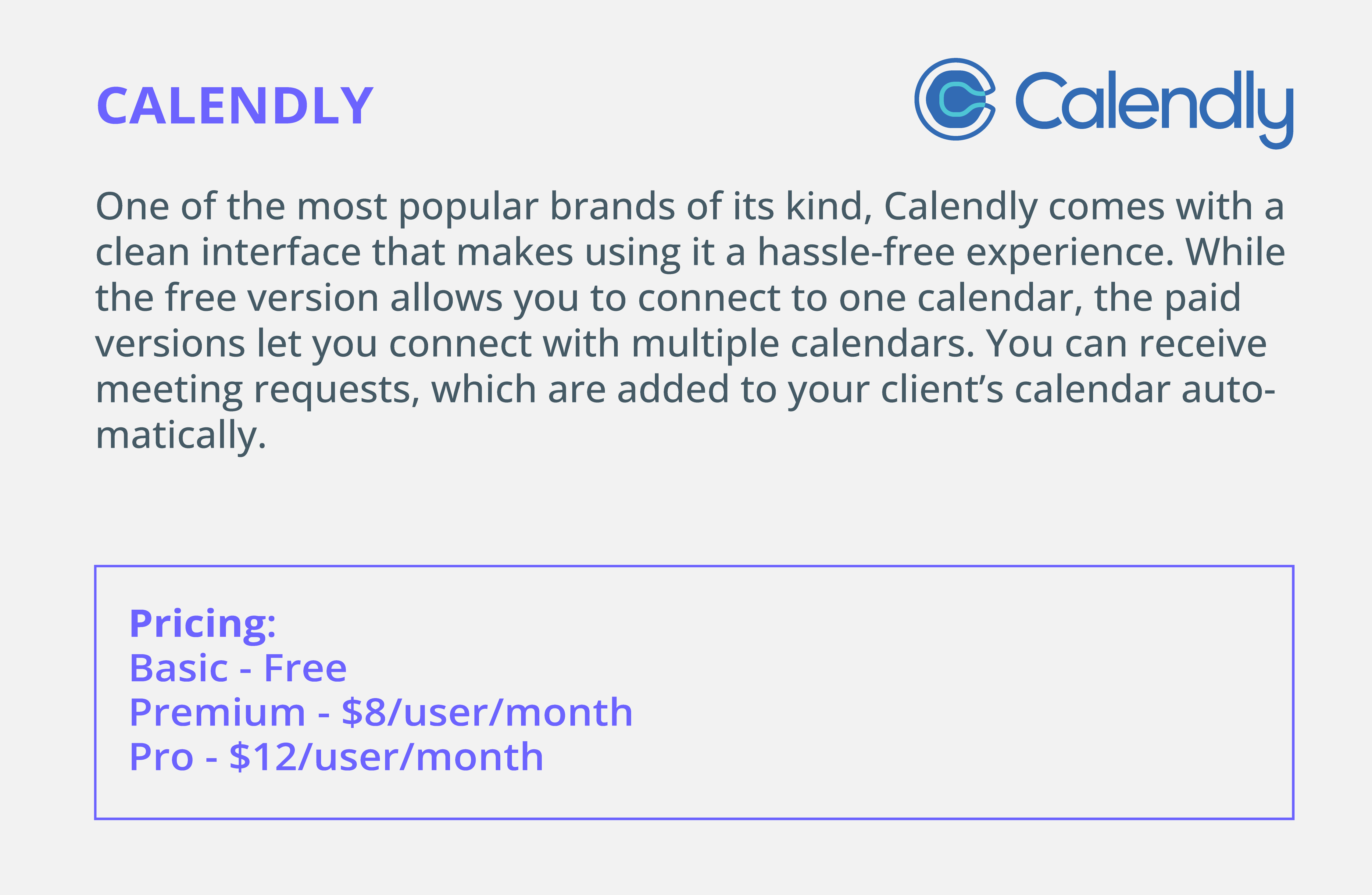 The basic version is more than enough for those who are dealing with a single product or service whereas the paid versions are more suited for teams since they come with reports, metrics, team pages, along with administrative features that help in booking meetings.
Google Meets
The name Google speaks for itself and the performance it carries. As a scheduling tool, Google Meets allows you to schedule meetings as per your convenience in its Google calendar. You can then send invites for the same to concerned individuals and vice-versa.
It has a self-explanatory user interface and serves as an efficient time management tool. As such, you don't have to engage in constant back-and-forth email threads to lock in a date or platform to meet your clients. All you have to do is click the "Add Google Meet video conferring" button in your Google Calendar, and the rest will be taken care of on its own.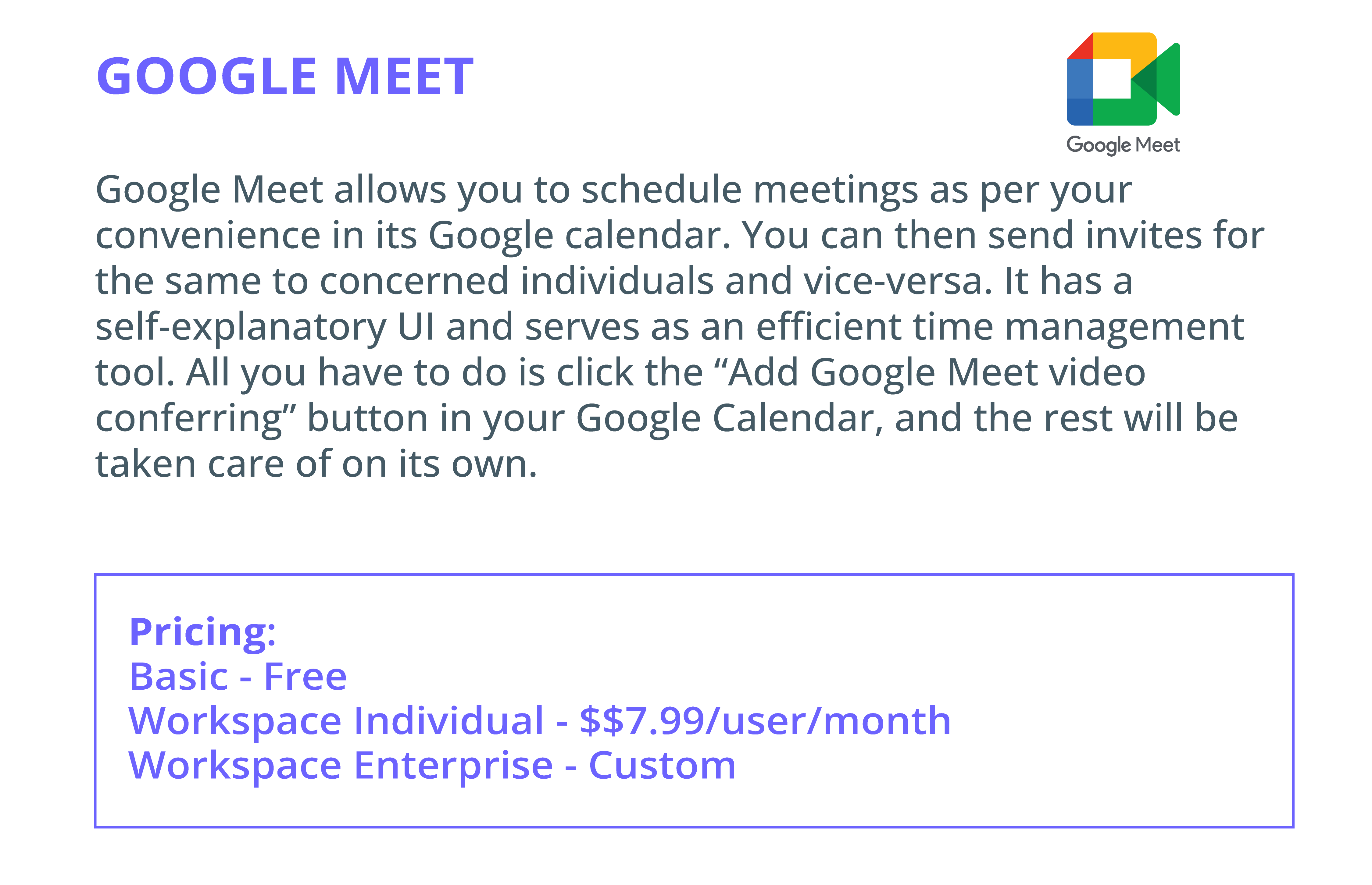 Although a free variant is available for you to use that can get almost all of your jobs done, it also comes with a 'Workspace Individual' variant at $7.99/user/month and a 'Workspace Enterprise' variant whose pricing is decided by contacting their sales teams. Both these variants offer additional unlimited features that make scheduling appointments a seamless process.
Zoom
Perhaps the brand that has skyrocketed more than any other brand during the pandemic due to its ease and accessibility of video conferencing, Zoom offers the latest in what every meeting tool stands for in the market.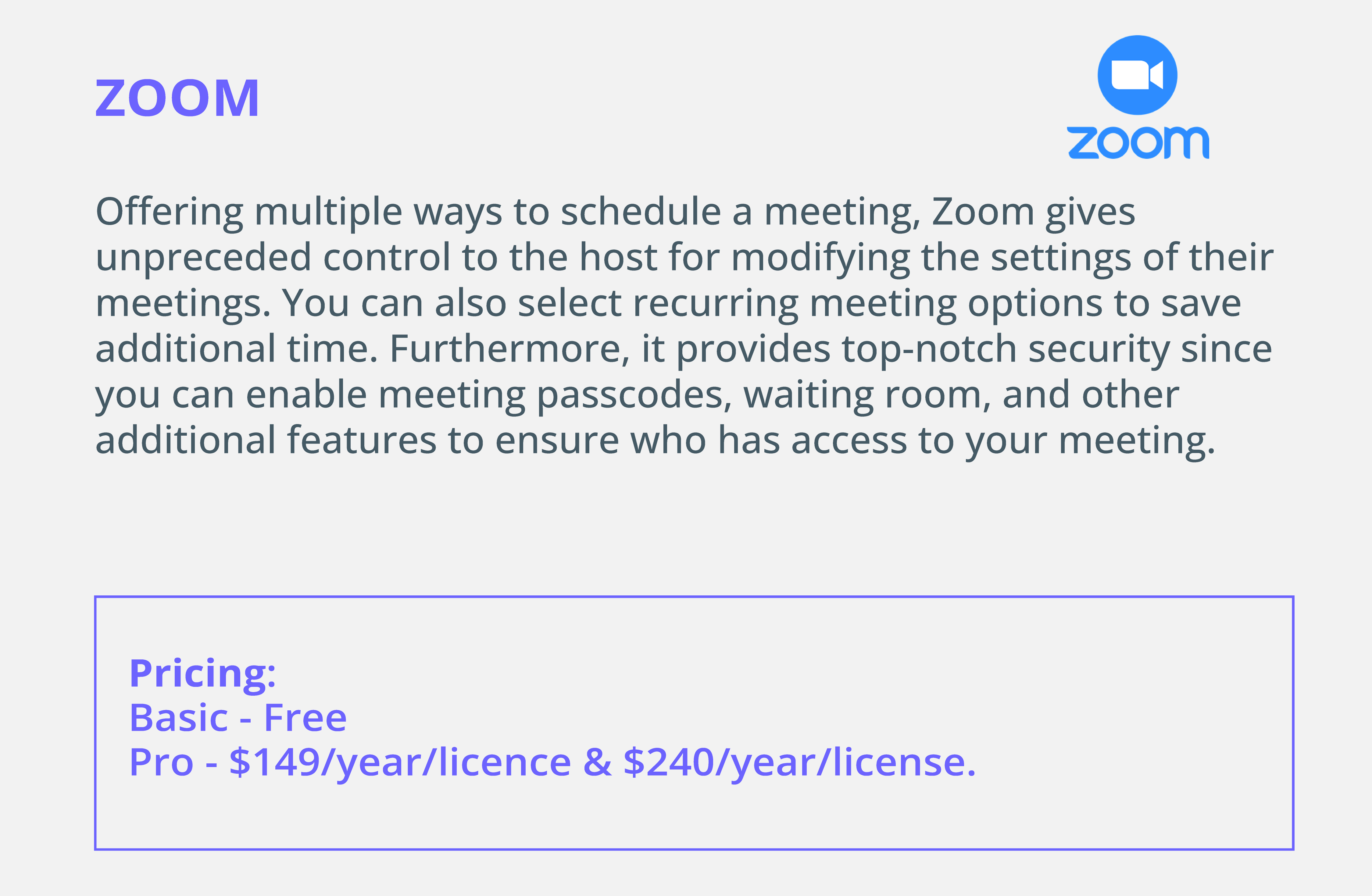 Offering multiple ways to schedule a meeting, Zoom gives unpreceded control to the host for modifying the settings of their meetings. All you need to get done is select the 'Schedule' option, which will open a new window allowing you to name your meeting and select the preferred time and date. It also comes in handy when conducting conferences with international clients since it will send an invite to the client by automatically deducing their time zone.
You can also select recurring meeting options to save additional time. Furthermore, it provides top-notch security since you can enable meeting passcodes, waiting room, and other additional features to ensure who has access to your meeting. It has a free version as well as paid versions that are priced at $149/year/licence-$240/year/license.
Appointy
Appointy is the ideal go-to scheduling tool if your business is heavily dependent on social media channels than a website since it allows scheduling meetings through social media channels. It offers a clutter-free calendar and its free variant lets you have access to unlimited bookings for five different services. A paid version of $19.99/user/month-$79.99/user/month gives you additional email marketing integration.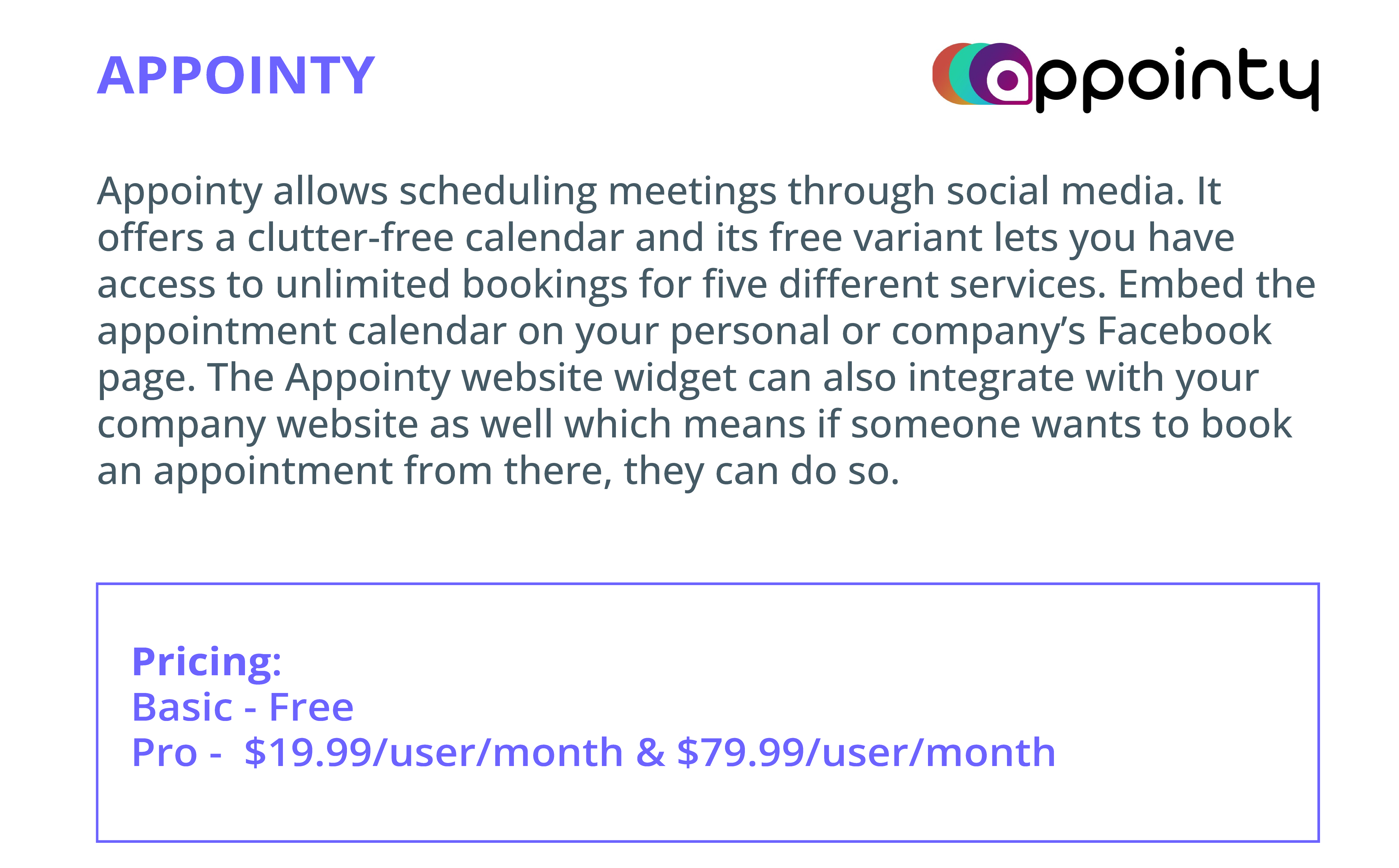 You would be able to embed the appointment calendar as per your convenience on your personal or company's Facebook page. So, even if your company website is nascent or doesn't bring traffic, you will still be able to reap the benefits you are seeking.
The Appointy website widget can also integrate with your company website as well which means if someone wants to book an appointment from there, they can do so. Irrespective of what package you select, you can export all your data from this app at any time.
Setmore
Setmore is gaining momentum for its feature of allowing its users to create their public-facing booking page. With its free variant, you can support up to 20 staff calendars and logins which eventually would give access to your team to schedule meetings.
So, as you can see, this is highly suitable for businesses that prefer giving all their employees their individual scheduling websites. It also automatically sends notifications regarding your meetings to those who have booked time with you.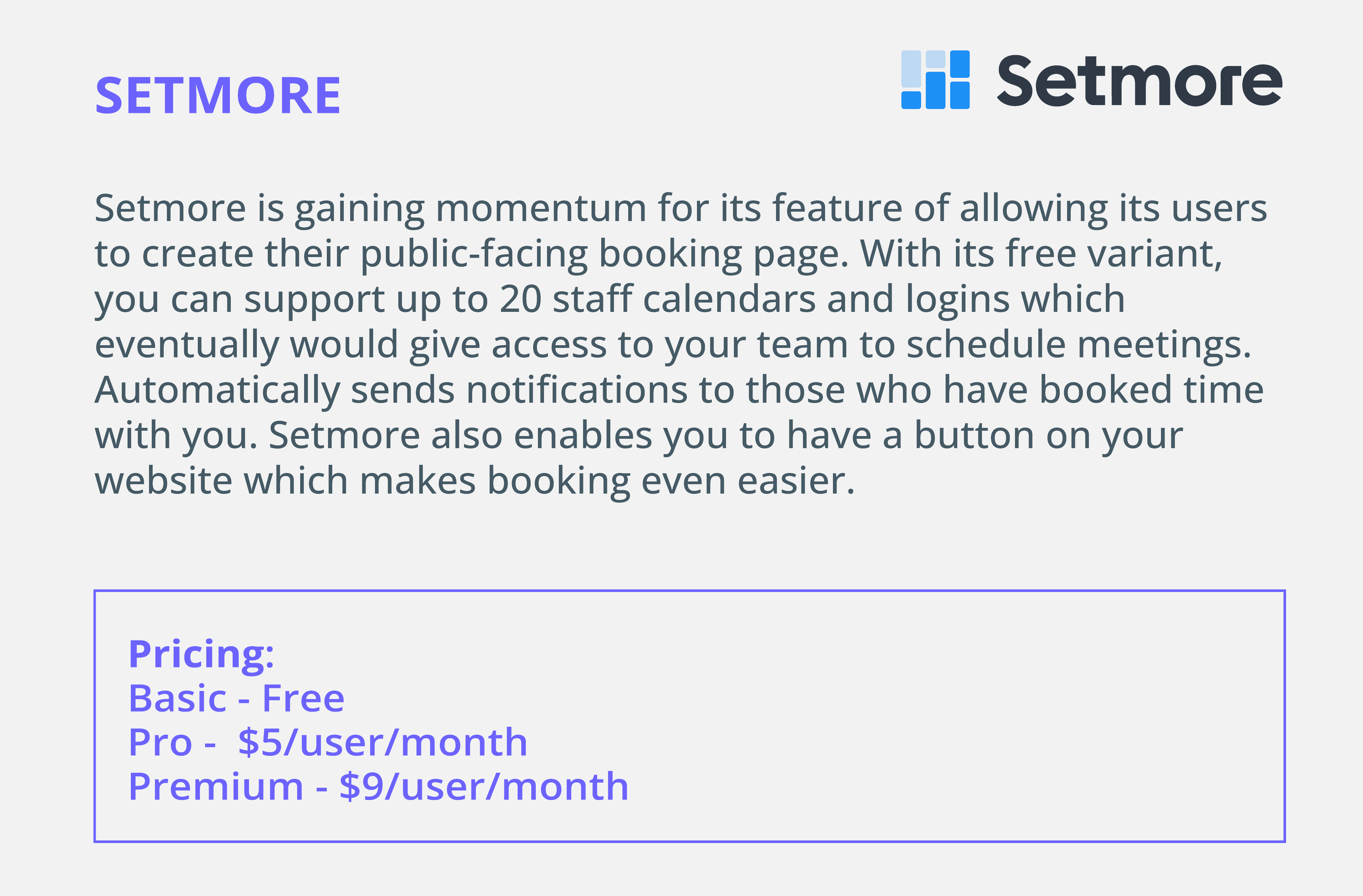 Besides, Setmore also enables you to have a booking button on your website which makes booking even more hassle-free than it already is. Apart from its free version, it also has a pro and premium version with added benefits coming in at $5/user/month and $9/user/month respectively.

Things to Look for in Scheduling Software
Before finalizing your choice of scheduling software, give priority to the following features that must be present in the one that you ultimately settle for.
Ease of Use
A user-friendly interface can't be compromised at any cost. Even if your scheduling software has the world's best and latest features, if the users spend more time figuring out what is appearing on their screens than in spending time at the meeting, then that software is a big failure. A good appointment tool should be easy to use not only for you but also for your clients and customers.
Integration
Your scheduling app should allow you to connect to different other apps to heighten its efficiency. This ensures that with a single customer or client booking, a bunch of other automated tasks are triggered instead of wasting additional time getting those done manually.
Mobile-friendly Interface
Inclusivity is crucial in determining the diversity of the users your meeting software will attract. Since many clients and customers are likely to access your booking pages through their phones instead of laptops or desktops, a good scheduling app must have a mobile-friendly interface. This versatility should not be underestimated.
Bonus Tips to Make Meetings More Fruitful
As we wrap things up, here are some bonus tips to make your meeting more productive.
Timed
Defining the duration of the meeting is always practical since your client or customers can schedule themselves accordingly and know how much time they would need to invest. In addition, before the meeting, if possible, try and have a demo meeting of around ten minutes so to ease the process.
Understanding Pain Points First
Address the agenda of the meeting as quickly as possible. Clients are impatient and time is money. Once they feel they are at the core of the issue, they feel satiated. So, instead of an elaborative introduction, get to the persistent or recurring issue of the meeting as fast as possible.
Leave room for Q&A
Always keep time towards the end of the meeting for an open forum where your clients or customers can have a back-and-forth with you. This question and answer session will make it more interactive and give both you and the other party more clarity on where each of you stand.
Being Prepared
Construct a 'Plan A', a 'Plan B', and a 'Plan C' while fixing your meeting. You have always got to stay ready for anything and everything. As they say, hope for the best but be prepared for the worst. So, map out multiple scenarios of what direction the meeting could take and prepare yourself accordingly.
Post-meeting Discussion with Team
At the end of the meeting, it is always wise to have a post-meeting discussion with your team. Once your clients or customers leave, have a quick discussion with your team about how the meeting went. This immediate reaction will give you the most authentic feedback to improve the quality of your next meeting.