In the B2B (Business to Business) sector, you can never rest on your laurels, and hope for past success formula will replicate itself in the present and future. You know what they say about assumption, right? Amplify that ten times when it comes to B2B marketing.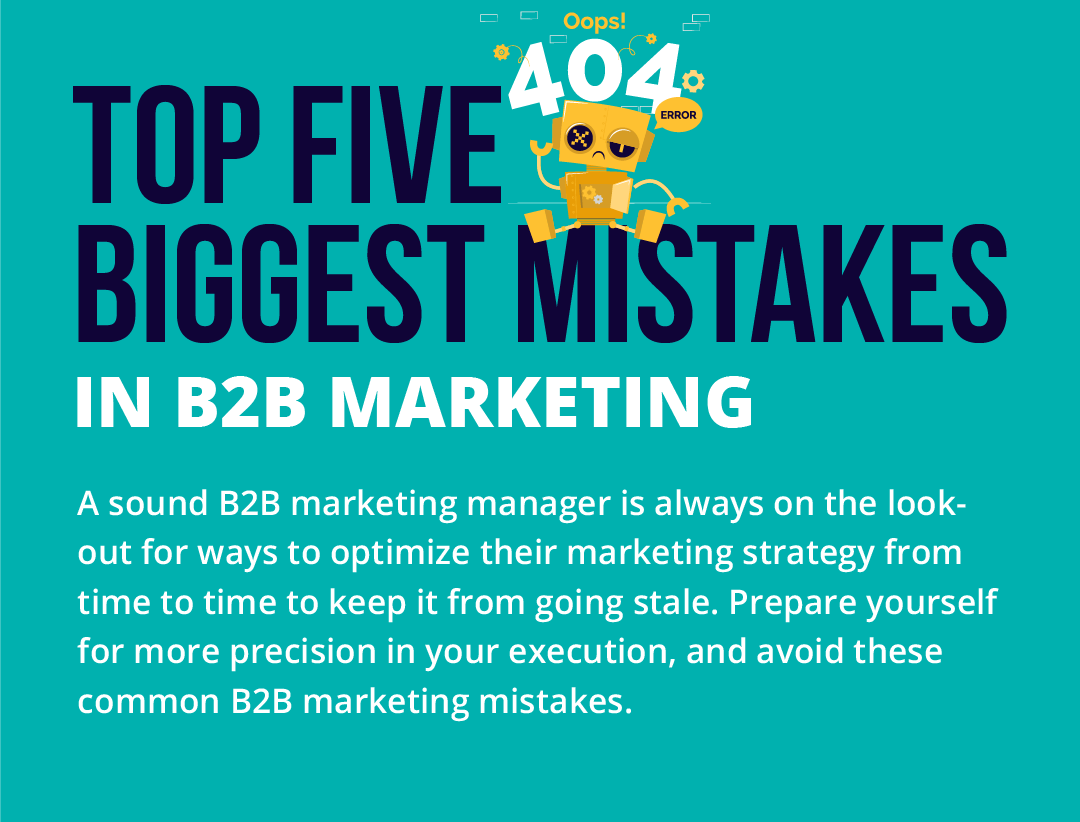 A sound B2B marketing manager is always on the lookout for ways to optimize their marketing strategy from time to time to keep it from going stale. It is not rocket science – if you aren't willing to adapt, you will be the last person in the queue when it comes to generating profit.
So, to prepare yourself better for more accuracy and precision in your execution, try and avoid these common B2B marketing mistakes.
Coming Across as Bragging
Nothing turns off audiences more when one goes on and on about how great their products or services are without diving deep into the legitimate concerns of the audience.
Feel free to beat your own drum but at least articulate it in a way that doesn't come across as bragging. Instead of being too gung-ho about proving why your brand is the best, try and focus on answering how your offering provides real-life value to your customers.
Therefore, instead of choosing phrases such as "We are the best in the business", "Ours is the top-notch product in the market", use logistics in your statements such as, "Our services help boost your productivity", or "We help streamline your workflows smoothly", among others.
The goal here should be to ensure that your statements are captivating to read from an audience's point of view. So, once you are done with the copy of the marketing descriptions, sit back and read it by pretending you have never heard of your company before.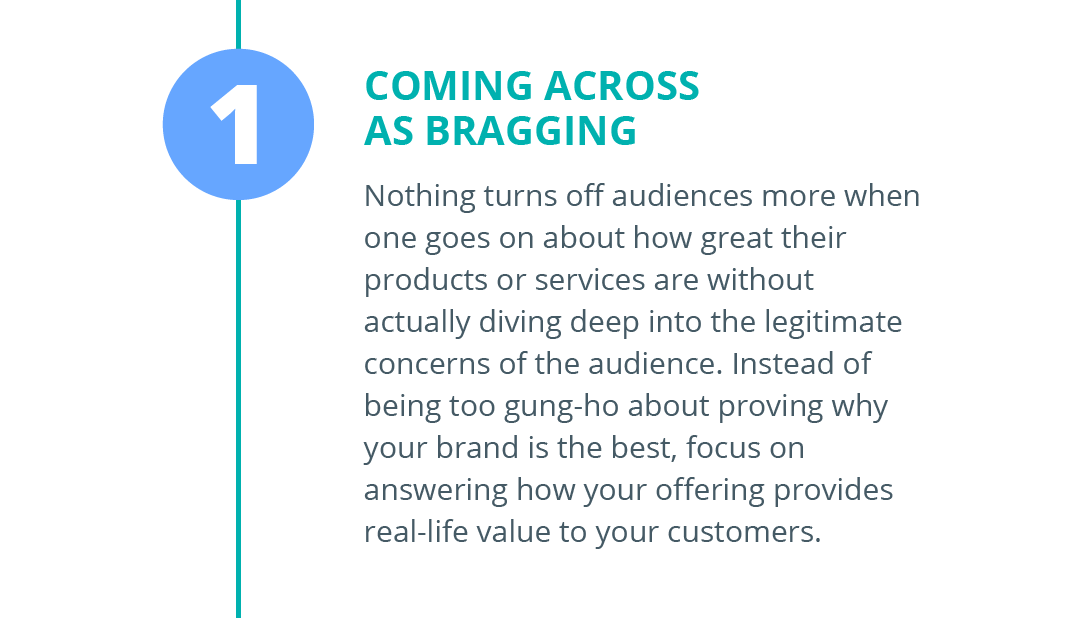 Try to see whether it addresses your problem. If the answer is no from the perspective of the audience, introspect and make necessary changes to show how audiences can benefit from your offering.
Failing to Focus on Analytics
Analytics audits are to B2B marketing what a report card is to a student. For asserting the progress of a student from an academic standpoint, parents rely on a report card and based on it; helps guide and pave their child in the right direction.
It is the same for your B2B marketing strategy. No matter how much money you invest in preparing your product or service, if you don't track its marketing progress, you are blindly going with your assumptions. Needless to say, that isn't reliable!
Analytics help in setting up event goals. For instance, if you want your online customers who visit your website to fill up a form to get in your database without bugging them, you need to strategize wisely. Analytics also help you figure out what move of yours is working and which one is not yielding the desired result.
Only those who spend a considerable amount of time on our website are likely to fill up that form. So, program your form to pop up after, let's say, 45 seconds of a person coming into your website. To find out how many of your audience fall in this category, you need data, for which you need analytics.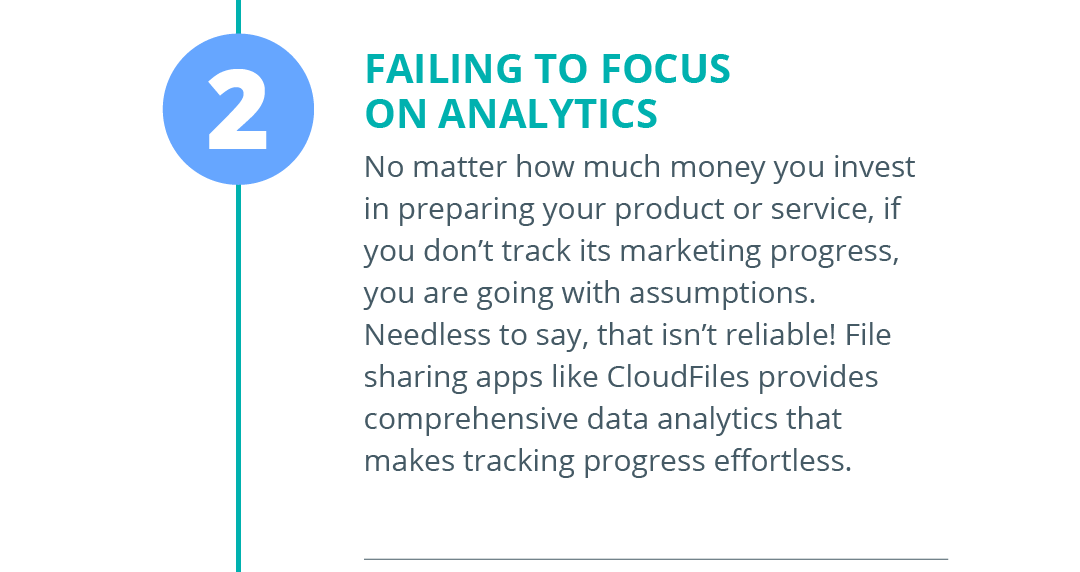 Suppose you want to lure more customers to your product or service by providing them a free trial, but you still want a benchmark to be fulfilled. You can do so by measuring the analytics of, let's say, a specific group of people who have watched a specific amount of your video content.
File sharing apps like CloudFiles help in providing comprehensive data analytics that makes tracking progress effortless. You get scientific results based on which you can direct your next move to increase productivity.
Not Prioritizing CTAs
As a brand, it is your job to keep yourself relevant in the public eye and the most viable method to do so is through efficient CTAs (Call to Actions). The advent of the internet has been both a blessing and a pressure for brands.
A blessing because it maximizes your brand's reach to a level that otherwise would have been impossible, and pressure because all your competitors are doing the same and you need to figure out how to outlast them.
Your standard CTAs will only take you so far. You need to let your creative juices flow if you don't want to lose out on any potential clients. The idea here is to inspire your potential clients to always take positive actions.
Whether it is signing up a form or downloading your app, making a direct purchase, or sharing your posts on social media, you must propel your audiences actively for keeping them engaged with your brand. This is a crucial aspect of B2B marketing that many novice marketers fail to pay attention to.
Make your CTA as catchy and bold as possible on your website so that none of your audience can miss it. Experiment with your CTA button and place it next to value-driven content to not seem desperate and more organic.
Neglecting Responsive Design
A considerable 57.38% of the overall web traffic is generated through mobile phones, as of February 2022. The same figure was only 8.53% a decade back in February 2012. So, obviously, you can assess the rise of usage of mobile phones in general and its impact on web trafficking.
In fact, Google now indexes and ranks your website based on the responsiveness of the mobile version of your website. There has been a significant rise in the number of people who revisit and share a particular website if it is easy to use on their phones.
Therefore, not using a responsive design is a paramount mistake that you can't afford to make. In case you are wondering, responsive design helps in enabling the same content to different users across varied device shapes and sizes.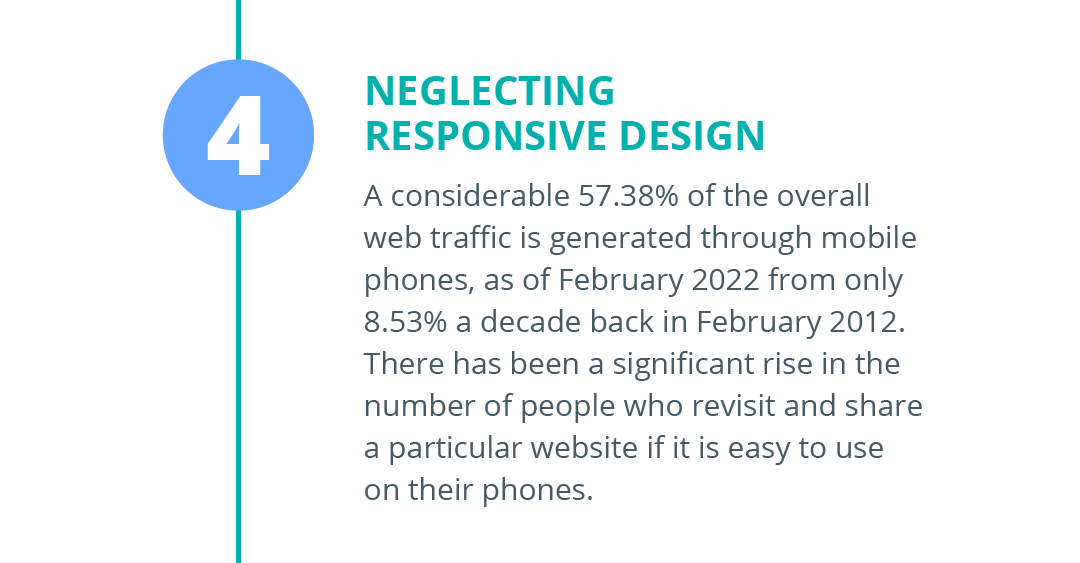 Fix this problem by focusing on providing a better mobile experience for your users. This can include optimizing your content layout, compressing images for the optimal mobile speed, minifying codes, allowing autofill wherever possible, selecting a hamburger menu instead of a navbar, among others.
Undermining the Power of Social Media Channels
In this digital era, if you are not making the most of the social media channels to market your B2B business, it's a shame. There is this myth of social media only serving fancy purposes that need to be taken down. Many entrepreneurs are still unable to get ahead of their peers simply because they are not investing enough time and money in boosting their social media presence.
Data-backed social media marketing strategy can yield both short-term and long-term profit for your brand and will go a long way in creating a positive brand image. This ultimately leads to more brand loyalty, which is usually the end goal for most businesses.
Studies show that a whopping 88% of consumers are likely to purchase a brand after going through its reviews on social media. Furthermore, 55% of B2B buyers research on social media beforehand about the brand they are buying from.
So, it is a no-brainer why B2B marketers should regard social media as a pivotal channel for boosting their sales. From LinkedIn to Instagram, from TikTok to Facebook, the options are plentiful for active gauging of interest and engagement. Think of social media as a better and more advanced form of what used to be word-of-mouth promotion.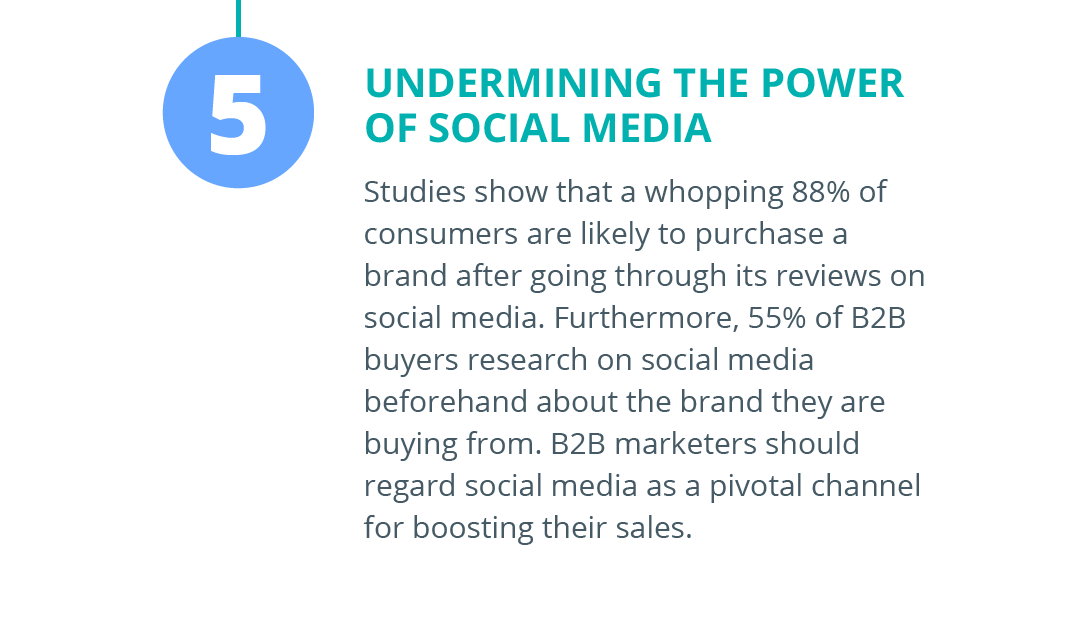 Final Thoughts
B2B marketing requires you to manage a plethora of fields – from marketing analytics to sales, from content strategy to lead generation – and unify them to derive the best possible result. Needless to say, you are bound to make mistakes that might derail your path to success. But, having pre-existing knowledge about them might keep you shielded from those mistakes.
Keep a checklist of these aforementioned mistakes in a sticky note form next to your computer and each time you evolve your marketing strategy, run it by taking a glance at these mistakes.