According to statistics, over 70% of modern consumers research about the product or business online before making a purchase. In this era of aggressive digitalization, it is not an exaggeration to say that over 60% of businesses have successfully established their digital presence.
But mere digital presence doesn't account for a business' digital success. The success of a business in generating marketable traffic, successfully converting them into prospects, and then customers begins with assessing their digital traffic trends and activities.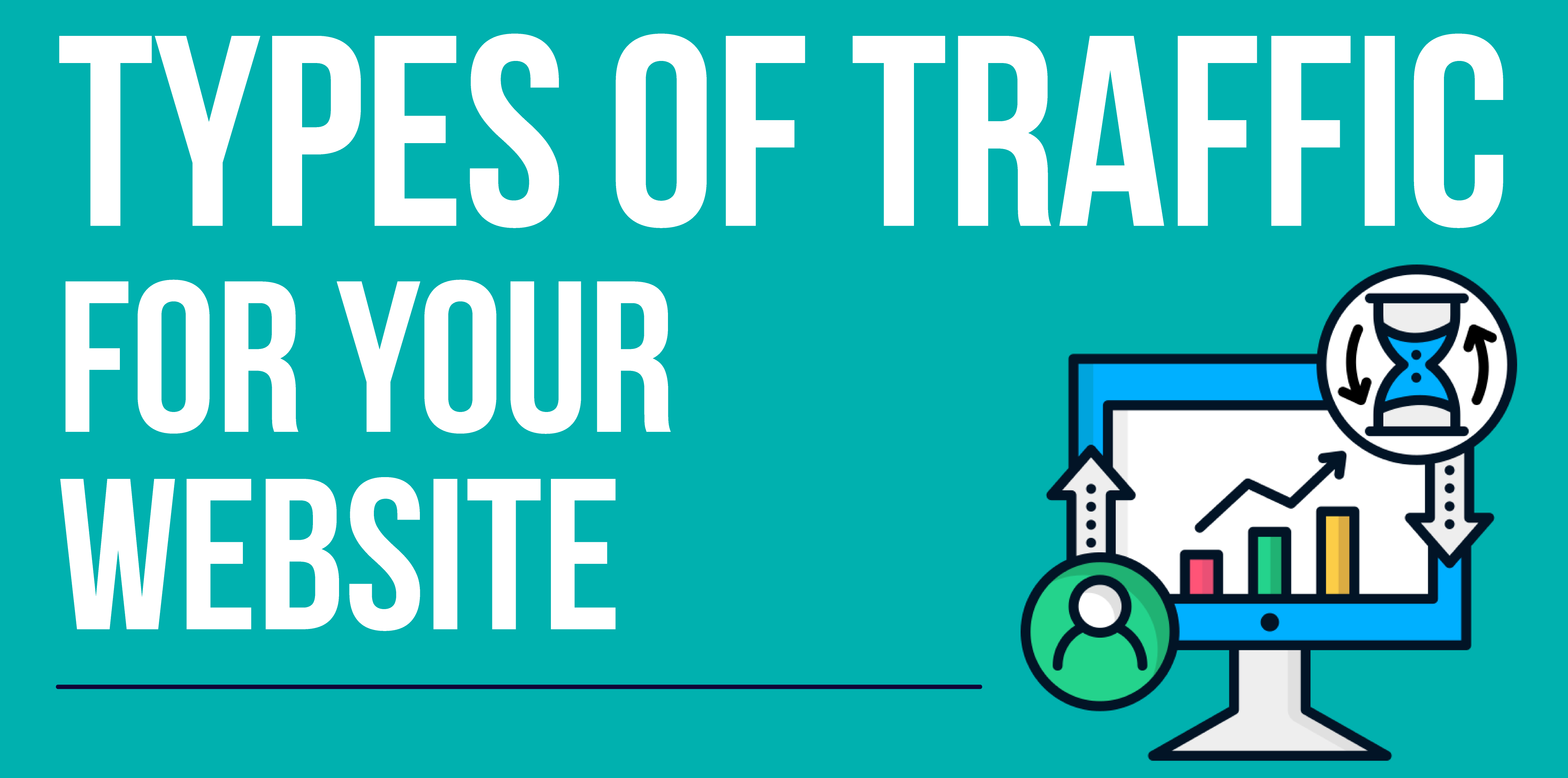 Why is it important to understand your traffic analytics?
Unlike in the early 2000s', traffic to a website comes from diverse sources. Instagram, Facebook, YouTube, and various other digital channels are used by marketers to divert the traffic to the website. The first step to optimizing your marketing campaigns begins with assessing your traffic analytics, for which a sound knowledge about sources of traffic is a prerequisite to understand which channel holds how much potential for your business.
Types of traffic
1.     Organic search
According to studies, organic search constitutes 68% of online experience. According to a BrightEdge research report, organic search alone amounted to 53% of website traffic, emphasizing the significance of SEO.
Organic search is a source of traffic, where your audience searches for content with keywords and clicks on the most relevant result. It helps if you optimize your content so that it is seen by the most relevant users and has the best chance of ranking well in its targeted search results in short SEO.
Organic search means that you are not using paid advertising to get your content seen by people searching for your product or service. Instead, organic search means you are using SEO techniques that make sure your content is seen by as many people as possible without paying money for ads.
Organic search heavily relies on things like user behavior, unlike paid advertisements, to increase traffic to your site. You can also think of it as a way of getting free publicity online!

2.     Social media
There are 4.59 billion social media users out of 5 billion internet users as of 2022. It is, thus, difficult for businesses to ignore the digital space. Given the whopping user base, it is easier to reach out to the audience on social media than through Search Engine Marketing. And there is always a chance to divert this social traffic to a website pretty effortlessly.
Social media traffic is the number of people who visit your social media page or website from your social media posts. It is a key metric for businesses, because it shows how many people are interested in what you are doing and how they feel about it.
Social media traffic is often broken down into two categories: "organic" and "paid." Organic traffic comes from people who have come to your site through an organic search result (like Google) or an organic link on another site (like Facebook). Paid traffic comes from paid advertisements.
The social media channel is the fastest way for a visitor to get onto your site. This is because they often share links or click on tweets or Facebook posts that direct them to their site. If you are using social media, it's important to make sure that these links work properly and don't lead to broken pages or 404 errors when clicked on.
Social media is mostly used on mobile phones. Hence, the social media traffic is redirected to your website on their mobile phones. It is important to build mobile friendly websites to enhance your visitor experience.

3.     Email
Another way to divert traffic is through email campaigns (or newsletters). Email campaigns are a great way to promote your business because they are low-cost and effective at getting new leads in your door!
Despite the rapid advancement of technology, Email remains to be one of the primary sources of outbound marketing for almost 81% of marketers. The figure only emphasizes the fact how email still serves to be the top intimate communication channel for businesses. It, then, doesn't come across as a surprise why 81% of marketers prefer email over other communication channels on any day.
Utilized perfectly, email marketing can direct a lot of traffic to your website. Email traffic is a key metric for marketers, advertisers, and anyone else who wants to be able to measure their success with email marketing. In fact, it is one of the most common measures used by companies to measure the performance of their campaigns.
The key to successful marketing is making sure your content gets seen by as many people as possible, so it is important to know what kind of content gets clicked, who clicks on it, and where they click.

4.     Direct
Direct traffic is the most important traffic source for your website. Direct traffic refers to people who come directly to your site by typing the url on the address bar. This type of traffic has the highest conversion rate and is essential for any business.

5.     Referral
Website traffic from referrals is the number of unique visitors to your site, who have come to the site through a link on another website or a recommendation from a trusted member.
When you are building a new website, it is important to understand how many people will be coming through your links. If you are not tracking this information, then you won't know what kind of traffic to expect or how much traffic is coming from where. You might even miss out on opportunities to boost your content's reach and improve its quality—and that could mean losing out on potential customers!

Website visitor intent
There are several factors that contribute to your website's success. One of them, and one of the most important, is the mindset of the visitor when they enter your website through different channels like social media, search engine, email etc.
If you are a business owner and you want to increase sales on your website then you should focus on how your visitors perceive your website as a whole rather than just one feature or another. You should be aware that visitors will judge your product based on its entire feature set, not just on any one particular aspect of it.
In order for visitors to successfully navigate through your site and make an ideal purchase decision, then they need to leave with a positive impression about that product or service. They need to feel that what they see matches up with what they were expecting from their research online before making the purchase decision - this is called the 'wow factor'.
So how do we create this wow factor? The answer is simple: by creating content that is so compelling that it pulls them in right away and makes them want more information about what could possibly make their lives better in some way, shape or form!
How to increase the time spent by a visitor on your website based on traffic source?
If you want to increase the time spent by a visitor on your website from different sources, there are a few things you can do.
First and foremost, you should make sure that your website is easy to navigate. This will help visitors feel comfortable while they are browsing through it and they will be more likely to stay there longer.
It is also important that you have content available on your site which is relevant to the users' interests. This will ensure that the users spend more time on your site because they won't have any other option but to read what you have written about them!
Another thing that can help increase the time spent by a visitor on your website is by having useful features like social media buttons or analytics tools available on its pages so that users feel motivated enough to share information about themselves while they are at it!
Make sure your website is optimized and mobile-friendly. This means that it will look good when viewed on a smartphone, desktop, and tablet.
What is the significance of SEO across different marketing channels?
Search engine optimization (SEO) has become an important part of every business' marketing strategy. It is not just about getting traffic from search engines, but also about making sure that the site is ranking well in Google and other search engines to ensure visibility of your website.
The reason for this is simple: people are searching for information online. If your content isn't there when they look for it, you are missing out on potential customers.
It means you need to optimize your website for search engines first, before anything else. Then, you can start thinking about social media and other marketing channels like email newsletters or brochures—but only after you have done all of the hard work of getting your site found by search engines first!
People use search engines like Google to find out more about a company before they buy from them—so it is important that your website is optimized for search engines so people can find and interact with it easily!
Social media is another way people interact with businesses online these days—and if you are not using any sort of SEO strategy on social media platforms like Facebook or Twitter, then chances are someone else will! That is why it is important that your social media pages are optimized for search engines so people can easily find them and engage with your brand there too!
How to choose the right landing page for your marketing email CTA
When you want to send an email marketing campaign, you know how important it is to have an eye-catching and persuasive landing page. It is the first impression that your potential customers will have about your business or product.
In fact, if you provide the best and most effective marketing strategy in digital channels like email and social media, you should be able to attract more customers. But how can you make sure that your campaigns are going to work?
Have you ever wondered how to choose the right landing page for your marketing email CTA? It seems like a very simple question and it is. But when you think about it, there are many factors that determine the success of your landing page. Let's look at some of them.
Content: Your landing page should have high-quality content that is relevant to your product or service. It should be informative and engaging, so people will want to click on it. The better the content, the higher chances for success!
Conversion rate: You need to optimize your conversion rate before you can start testing different landing pages. If you have a higher conversion rate, try testing different landing pages until you find one that works best for your business goals (and budget).
CTA: Your CTA should be compelling enough to lure people into clicking on it. Don't forget to make sure that it is easy to understand so people don't feel like they are being tricked into something they don't want.
Responsiveness: No matter how visually appealing your landing page, no user goes through the trouble of navigating through a poorly-designed and optimized landing page. Hence, your landing page should be highly optimized to provide a smooth user experience based on the traffic source. Make sure your landing pages are mobile-friendly. Traffic on your website comes from different sources as mentioned above. Therefore, it is imperative to ensure your landing page url and design are both user-friendly and the design is optimized for both desktops and mobiles.

Conclusion
It is no secret that traffic to your website comes from different sources like search engines, social media, email etc. But how do you increase the likelihood of converting viewers into customers? It is important to craft compelling CTAs and appealing landing pages to retain your visitors and convert them into customers. A good CTA will make visitors take action and convert them into customers.