According to a 2020 research study, more than 87% of marketers concurred that they use emails as their content dissemination channel. However, with 89% of marketers using social media for content marketing, it is a tough competition between both these channels.
Email marketing is the most effective marketing tool for many businesses. Despite the emergence of modern communication channels, email marketing still stays on top of a marketer's list. It reigns supreme over other marketing tools because the stress of catching up with the algorithm changes is one significant impediment to prospecting efficiently on social media.
As the data hints at growth in email users, email marketing is pretty straightforward and hassle-free. You have to work your way to make the recipient click on your mail.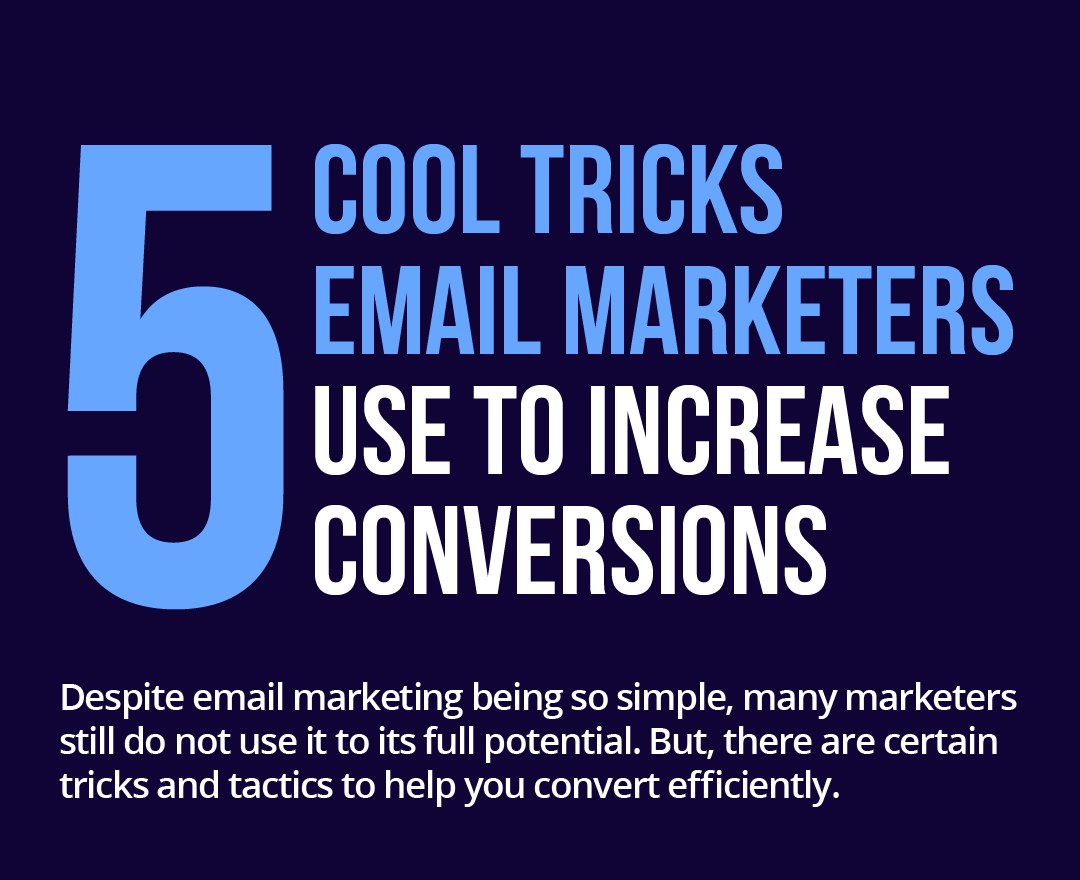 Despite email marketing is so simple, many marketers still do not use it to its full potential. But, there are certain tricks and tactics to help you convert efficiently. This blog walks you through such impactful marketing tactics today.
Urgency
Tapping into the FOMO of the audience or using urgency as a tool is one of the common tactics of marketers. Urgency creates a sense of scarcity, which prompts immediate action.
Marketers leverage this tool, especially during peak sale seasons or new product launches, to immediately get across the message. In addition, it inspires the audience to take action immediately to avoid losing in on a beneficial opportunity.
Showing Instead of Telling
The impact of visual content is more widely felt than mere text content. For example, the emergence of AR has furthered business ambitions because a picture paints a thousand words. Hence, marketers use images/videos wherever applicable in their emails to show people instead of just telling them. This will make them much more likely to take the leap and invest in the business because they'll know exactly what they're getting into.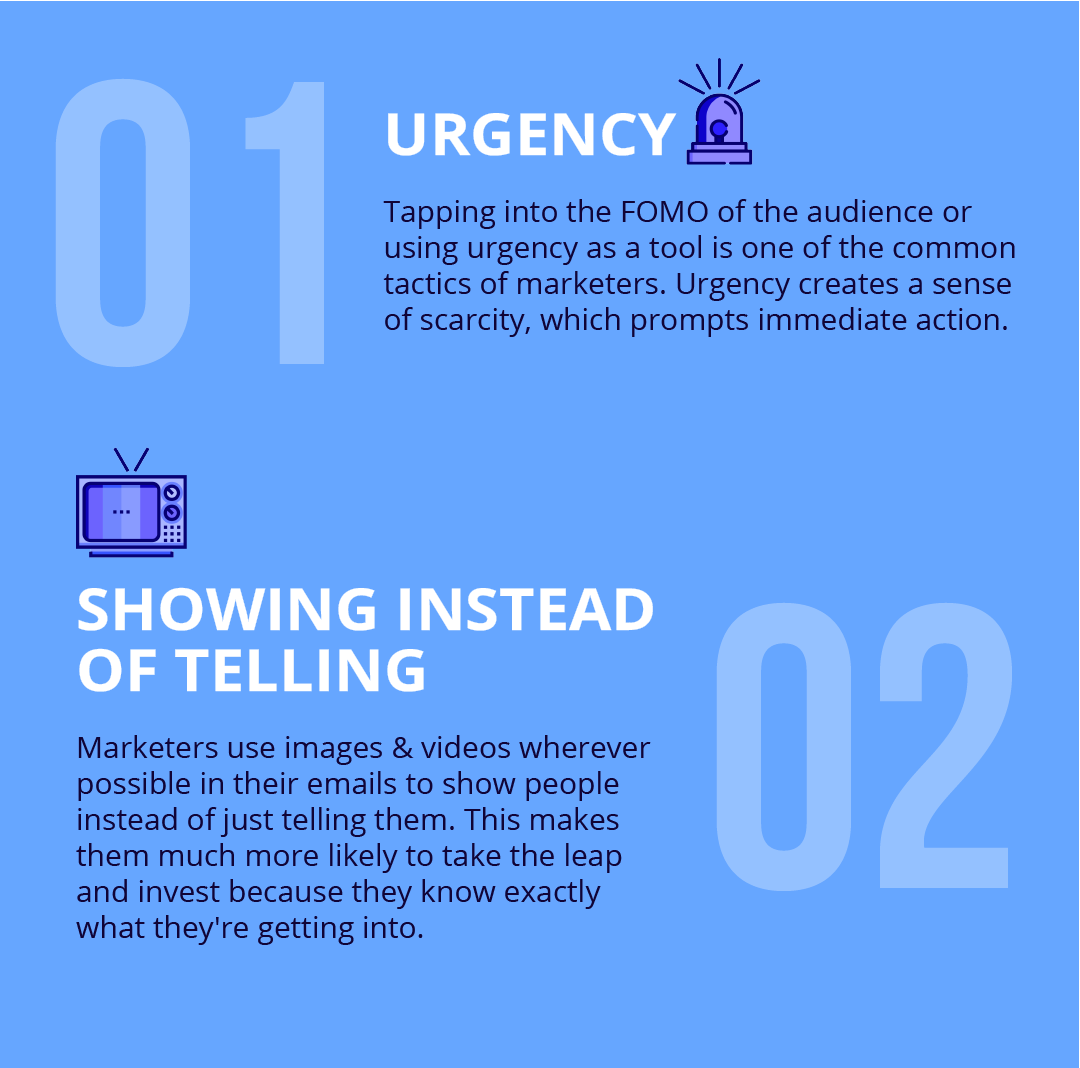 Segmentation
Segmentation is one great way to craft perfectly personalized emails. That's why email marketers use segmentation as part of their profile-building strategy. It makes targeting easier without alienating even a single prospect. There are different ways of approaching segmentation.
Behavioral data
Assessing and evaluating behavioral data of the target audience equips marketers with valuable insights about the prospect's interest in the business collaboration. For example:
The open rate and web page navigation show what parts appealed to the prospect and what didn't.
Number of forwards helping you understand how your prospects are responding to your marketing campaign.
Tracking metrics
Performance metric tools assist marketers in assessing prospect engagement with email marketing campaigns. To quote, open rate, read time, site navigation, and forwards are some metrics that help you gauge your marketing campaign performance.
Marketers predominantly rely on performance metrics tools to get an insight into prospect behavior. It equips the marketers with enough data to evaluate their marketing campaigns' individual and collective performance.
These insights help the marketers in fine-tuning their marketing strategy to enhance their performance for better targeting and higher conversion rates.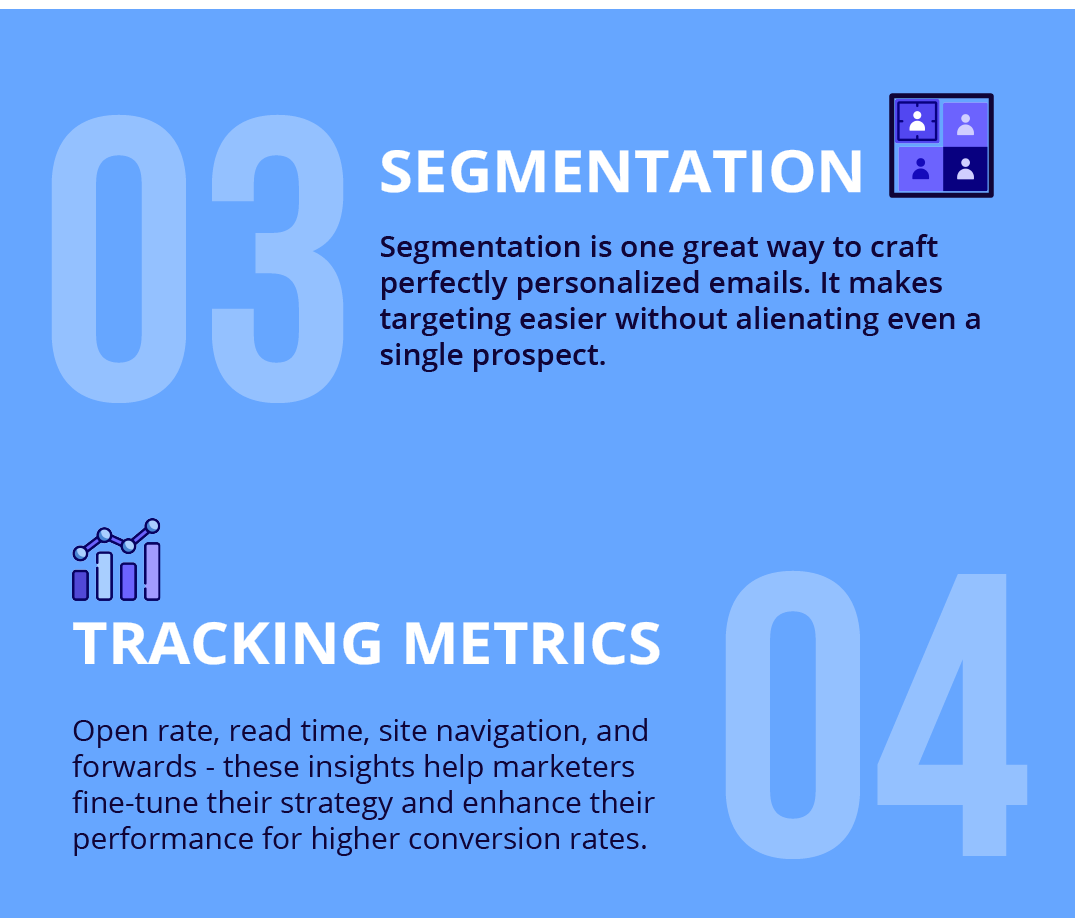 A/B Testing
Email marketers use A/B testing to see how two different versions of an email campaign stack up against one another in terms of conversion rates, click-through rates, and other metrics. The most popular way of running an A/B test is to send two different emails with the same subject line but with slightly different body text or sender information.
A/B testing allows marketers to find out what works best for their audience without alienating them with changes that they think will improve their campaign but have the opposite effect.

Email Marketing Blunders to Avoid
Herd mentality
Email marketing is a fantastic tool for businesses. But just like any other tool, there's a right way to go about it. Unfortunately, however, marketers commit some blunders and make a lousy brand impression. One of the biggest mistakes you can make when email marketing is following the crowd blindly.
No differentiator
You will end up blending into the herd by following the crowd blindly. Instead, to grab your prospect's attention, you need to offer them the right reason why they should choose you over your competitor. And, you can build that differentiator by experimenting, not imitating.
Counter-productive
All that matters to your prospects is what works for them. That's all well and good for them, but if you're not paying attention and instead just copying what everyone else is doing, you won't see results or maximize your potential.
Lacks experimentation
By tailing the herd, you're not experimenting with new ways of improving your emails' performance—you're just using someone else's best practices. If you want to make a difference in your emails' performance and engagement numbers, don't just use other strategies—try different ones yourself and measure their effectiveness so you can find what works best for YOU!
Bragging
One of the biggest traps that marketers often fall for is, coming across as bragging. Do you focus too much on your product and service? Your customers don't care about your product or service but how it helps them. They care about how businesses can help them solve their problems, reach their goals, and achieve their objectives. With too much self-focus:
You lose subscribers or prospects who can't see how their business can be improved by using your product or service.
You lose prospects if you can't break down what your product or service means to them.
You lose prospects by overwhelming them with meaningless information that doesn't add value to them or their business.
Don't be altruistic
Email marketing is meant to inform customers about what you have to offer—not make sales directly. So if you're having trouble converting email leads into actual customers, there could be a disconnect between how your email marketing campaigns are framed and how your sales team frames the products or services.
On the flip side, not coordinating your email marketing with sales could also be one of the biggest email marketing mistakes. However, it's essential to coordinate efforts if you're running a B2B company. Not being salesy yet persuading your prospects through your marketing efforts is a balancing act. Provide value to them but do not forget to direct them to your product or service.
Avoiding analytics
Analytics has made it easier to understand customers' and prospects' preferences and behavior. But if you don't use analytics to understand your email marketing campaigns, you're missing out on a valuable opportunity.
Metrics tell you exactly how many people are opening and clicking through your emails, so you can tweak your subject lines and content accordingly to maximize engagement and conversion rates. Hence, by avoiding analytics, you can't optimize for success.
Are you getting the right amount of responses?
Are enough people opening your emails?
Are all the links working properly?
You can't answer these questions without data. And not just any data—you need accurate and reliable data that can accurately inform you about your email's performance, help you with the gaps, and hint about your potential future strategy.
Focusing on spending rather than goals
Purchasing a software tool to meet marketing expenditure goals is a foolish strategy. The tool must make sense in terms of your marketing objectives and the overall context of your company's needs. Otherwise, you are wasting a lot of money on a tool that doesn't make sense for your business. Therefore, make sure to consider the following before purchasing a software tool:
Does this software help me achieve my marketing goals?
Does this tool help me improve my marketing efficiency?
Is there something else I can do instead of buying this tool?
Conclusion
There is no single right way to do email marketing. The right approach for you will depend on your business, your customers/prospects, and what you want to achieve. So you'll need to do some research and experimentation to find the right formula that works in your favor.
All the marketing strategies aside, an efficient performance metrics tool has the potential to be turntable for your business. An efficient analytics tool is all you need to eliminate the gaps, persuade your prospects, and close the deal.
Cloudfiles.io is one such tool for your business. Cloudfiles.io offers in-depth insights into your email marketing campaigns and provides a crystal-clear vision of your campaign's performance. Ace the prospecting game with cloudfiles.io