Companies around the globe are recognizing the far-end potential of CRM (Customer Relationship Management) software in their implications of enhancing sales and boosting revenue. Its role in developing, organizing, and maintaining relationships with the customers while providing analytical data is irreplaceable and what is, today, one of the key differences between a successful and an unsuccessful brand.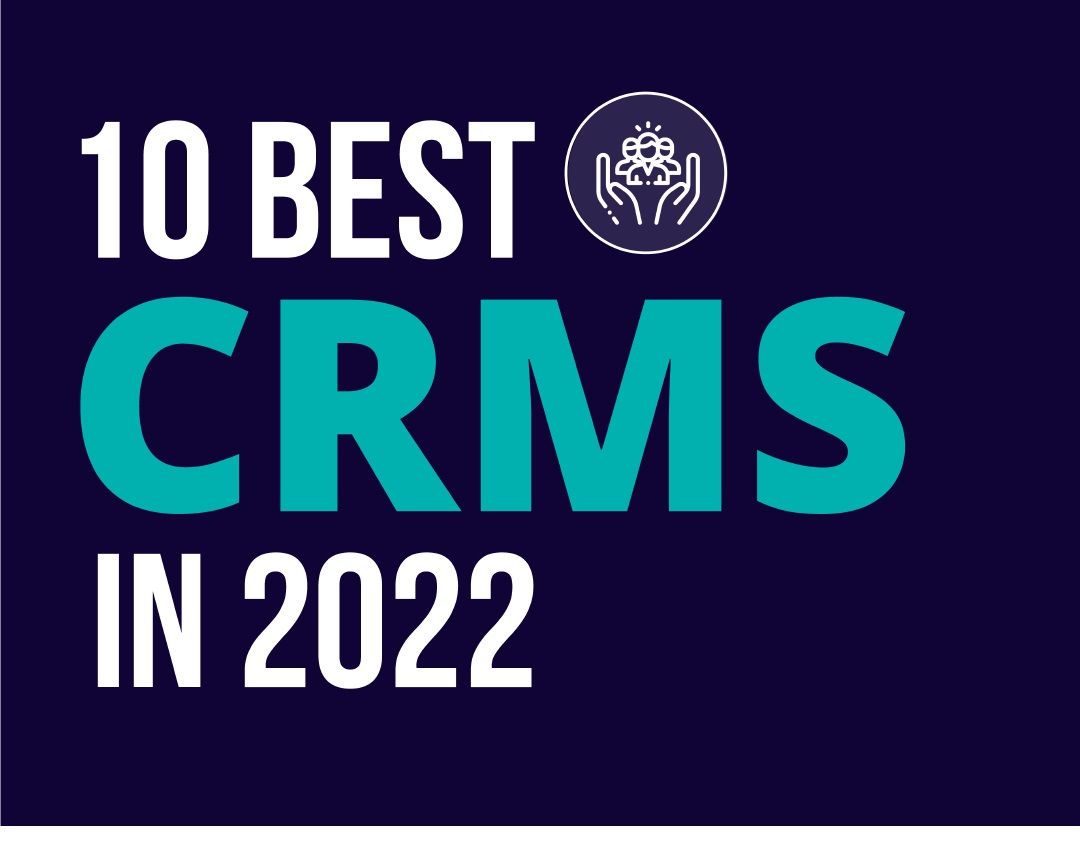 But with a plethora of CRM platforms available in the market for you to choose from, it can be rather confusing to finalize your choice. So, to help you out, we are bringing before you 10 of the most sought-after CRMs in the world based on their market share, compatibilities, pricing, integrations, and other special features they come with. Let's get it started.
Salesforce
Salesforce is a formidable CRM option that brings with itself a list of lucrative features that makes it a top-notch choice for businesses of varied range from large-scale enterprises to new and small start-ups.
With a market share of 19.5%, it is highly scalable and can be an effective tool for lead and contact management. It offers your business marketing and sales automation alongside cloud storage, and analytical data. Salesforce's USP is its seamless presence across-the-board, which gives it the edge over its contemporaries.
Among its drawbacks is its complex interface that makes navigation a bit time-consuming but other than that, it is a great investment. Its pricing ranges from $25 /month to $300/month, which is pretty affordable compared to others for such a big brand.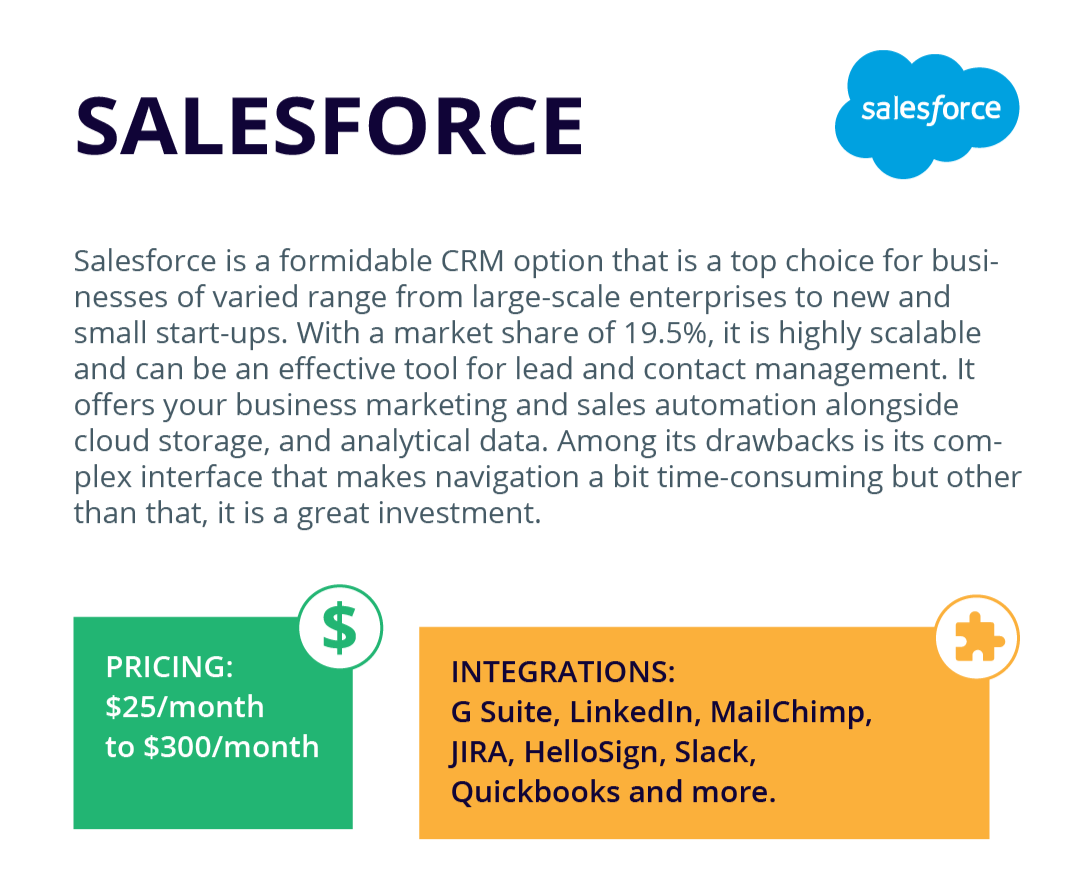 It can be integrated with various everyday apps like G Suite, LinkedIn, MailChimp, JIRA, HelloSign, Slack, and Quickbooks, among others. It also features its own community spaces for customers, partners, and internal employees for felicitating collaboration and maintaining communication.
Adobe Marketo
Having a market share of 3.8%, Adobe Marketo comes with various enticing features including lead scoring, automated sales tasks, data quality management, calendaring, triggered drip sequences, and the ability to test dynamic content, making it one of the highly favored CRM software out there.
It is praised for being highly intuitive and user-friendly and is relatively easy to set up and implement. Its cons lie in its poor landing page since it didn't start its journey as a marketing automation service. It was initially a lead management tool.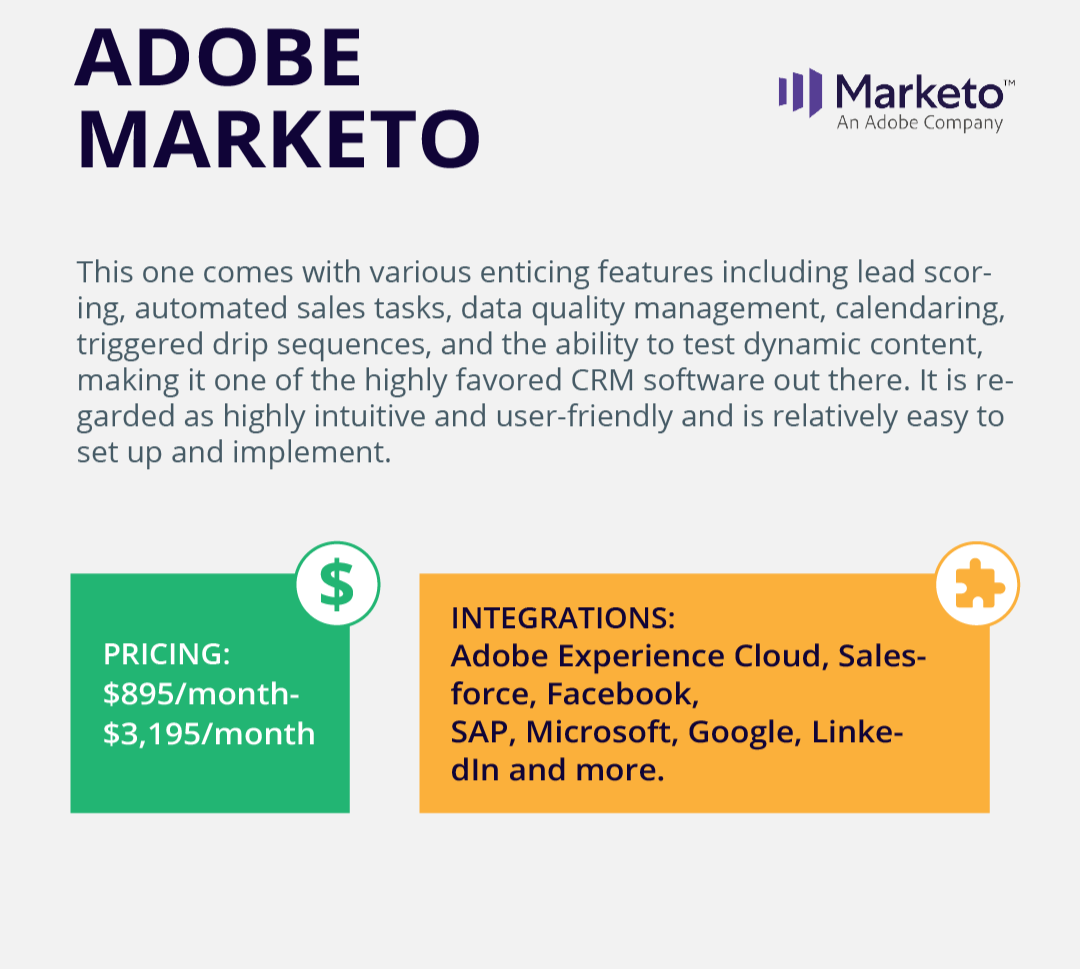 Marketo is also on the steeper side of CRMs, with its price ranging from $895/month-$3,195/month. It has an active and functional customer community and a wide integration ability since it can be paired up with Adobe Experience Cloud, Salesforce, Facebook, SAP, Microsoft, Google, and LinkedIn, to name a few.
HubSpot
HubSpot presents its USP in offering solutions that are crafted instead of cobbled. It is an industry favorite, evident by its market share of 31.61%. From enhancing conversion rates to nurturing leads, this is a one-stop-shop for everything under the CRM umbrella.
Flexible and powerful, you can quickly bring this to your work platform without feeling the need to change much, which speaks volumes about its integration capabilities, including Zoom, Facebook ads, Outlook, Gmail, Google Calendar, LinkedIn, Zapier, Twitter, Instagram, etc.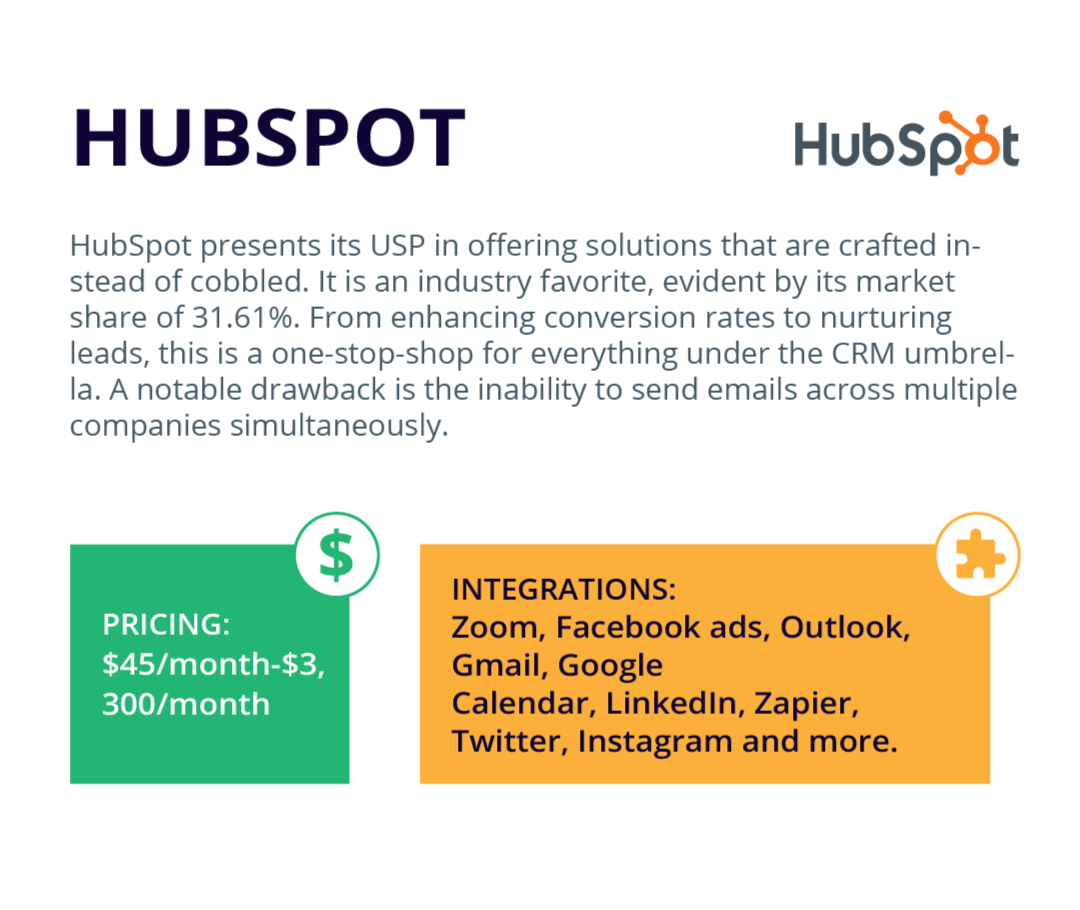 With popular CRM communities such as HubSpot HUG events, it provides its users ample opportunities to polish their marketing and sales knowledge.
Its pricing ranges from $45/month-$3,300/month depending on which version you are opting for. A notable drawback of HubSpot is the inability to send emails across multiple companies simultaneously.
Oracle
Providing an extensible and integrated application suite for a wholesome customer experience, Oracle CRM is a trusted name offering reliable solutions in sales, marketing, social media, and adjacent services. Having a market share of 7.51%, it offers integration with Siebel CRM and CRM gadgets.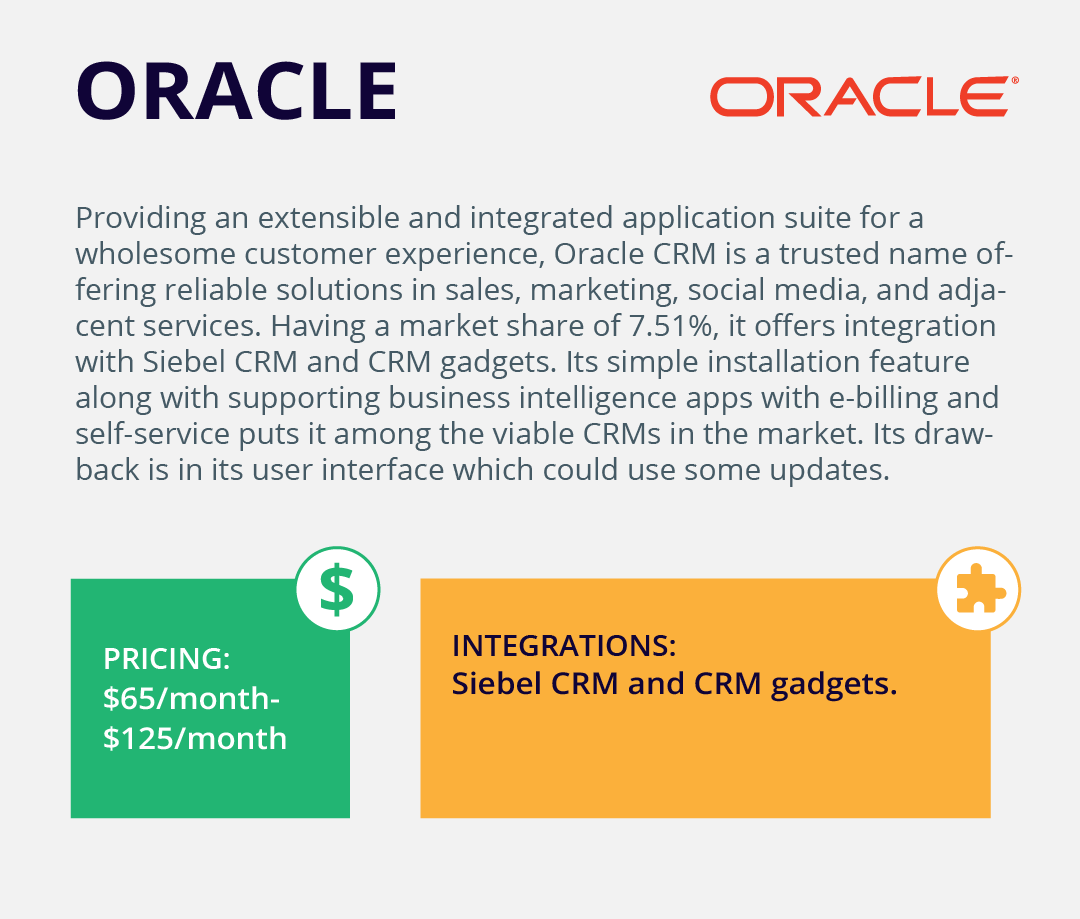 Whether it is tracking leads or discovering sales opportunities in minimal time, Oracle CRM doesn't disappoint with its USP. Its simple installation feature along with supporting business intelligence apps with e-billing and self-service puts it among the viable CRMs in the market.
Its drawback is in its user interface which could use some updates but with a price of $65/month-$125/month, it is worth your attention.
SAP
With a market share of 4.8%, SAP CRM has gained a significant audience for itself due to its ability to improve working capabilities and enhance customer engagement which ultimately boosts growth for the business.
Based on your requirement, you can either use SRM to deploy your preferred application on-premise or on the cloud. Furthermore, it supports the integration of web-based applications as well as telephony systems into its CRM. Its integration with BW and ECC is especially notable.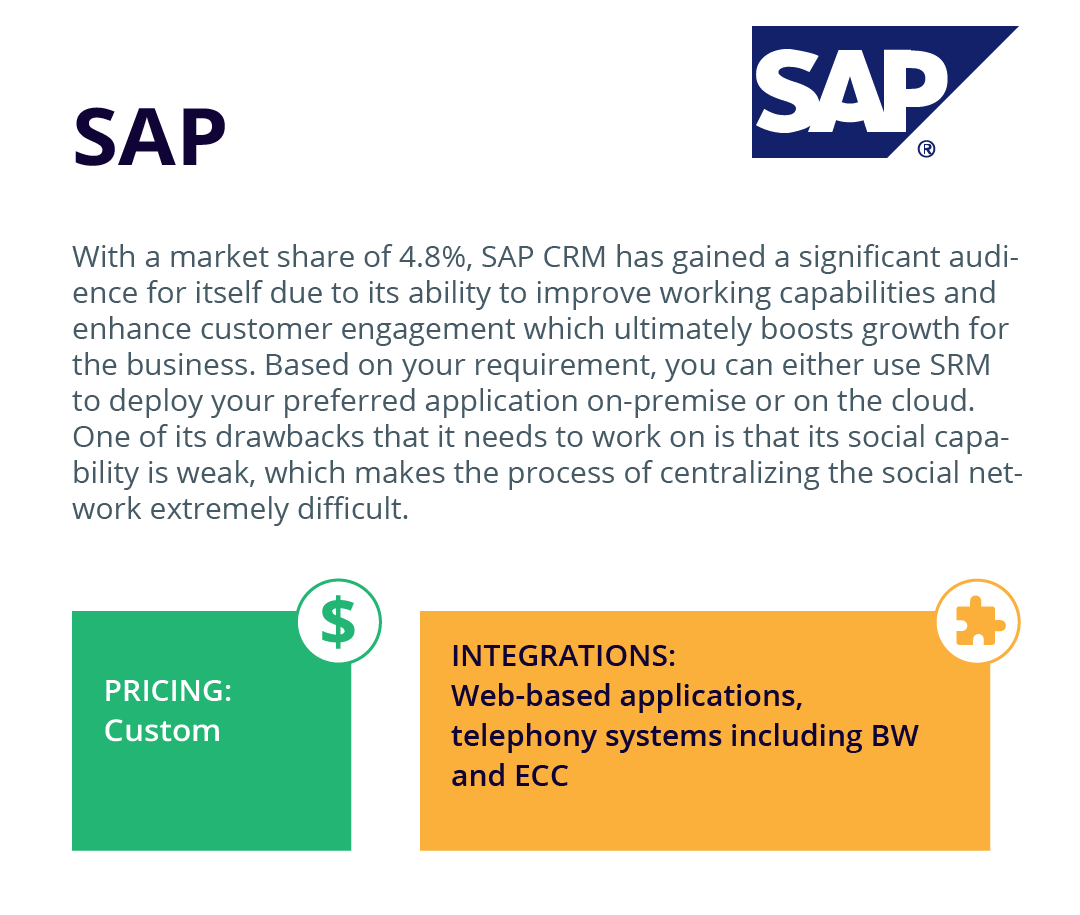 One of its drawbacks that it needs to work on is that its social capability is weak, which makes the process of centralizing the social network extremely difficult. No official price has been listed by SAP since it quotes its price depending on the requirements of the client.
Microsoft Dynamics
The brand Microsoft speaks for itself; so when it brought Microsoft Dynamics into the CRM field, expectations were high and it, for the most part, lived up to them. Acting as a centralized hub of information, this server-client software automates engagement while also increasing sales and boosting the service divisions.
It has a 4% market share and is priced at $40/month-$170/month based on its different variants. One of its biggest USPs is its ability to create a new database for the already available data. In addition, it also assists in putting customer data in excel formats.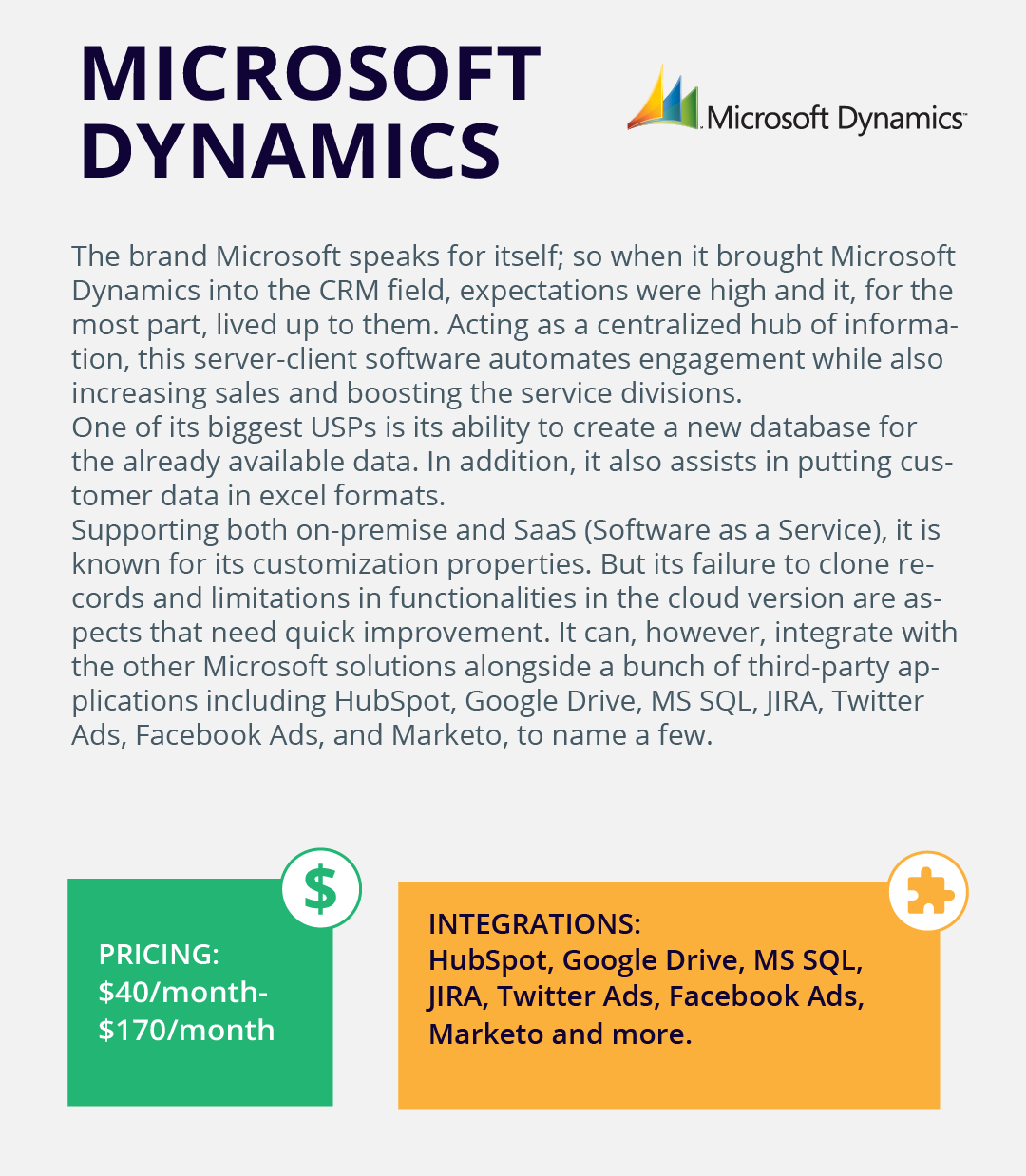 Supporting both on-premise and SaaS (Software as a Service), it is known for its customization properties. But its failure to clone records and limitations in functionalities in the cloud version are aspects that need quick improvement. It can, however, integrate with the other Microsoft solutions alongside a bunch of third-party applications including HubSpot, Google Drive, MS SQL, JIRA, Twitter Ads, Facebook Ads, and Marketo, to name a few.
Zendesk
A leading CRM in its own league, Zendesk has a market share of 16.83%. Designed keeping in mind B2B and B2C salespeople, this CRM brings with itself new-edge technical assistance of sales prospecting, sales email intelligence, and sales analytics that help in closing deals with minimal effort.
Assisting in lead nurturing, it centralizes the varied processes of communication and creates a single space to store data, thereby eliminating any chances of a clutter of information. Priced at an affordable range of $19/month-$99/month, its visually appealing personalized analytical dashboards and reports are among its notable USPs.
Unfortunately, it doesn't come with a free plan which is a bummer for those who want to test it out before investing in it. But, on the bright side, it integrates with numerous apps such as Dropbox, Slack, JIRA, SurveyMonkey, Shopify, etc. ensuring seamless collaborative efforts.
Zoho
Adopted by thousands of businesses in over 180 countries, Zoho CRM integrates with over 500 apps including Google Workspace, Microsoft 365, Slack, and Shopify, to name a few. It supports 28 languages and is priced at $14/month-$52/month.
Occupying 2.03% market share, the clear USP of Zoho is its omnichannel platform that helps connect to customers across varied channels. In addition, Zia, its AI-powered sales assistant, helps in detecting anomalies and predicting sales outcomes.
Its drawback includes not offering on-premise solutions but it earns favorable points through its easy onboarding and enhanced migration system. Not to mention, the IP restrictions, encryption, and two-factor authentication features add to its security, a much-needed aspect of any CRM.
Monday.com
With monday.com by your side, you can rest assured the customer engagement and storing of customer data, and streamlining of the business processes will happen just the way you want them due to its high priority to customization.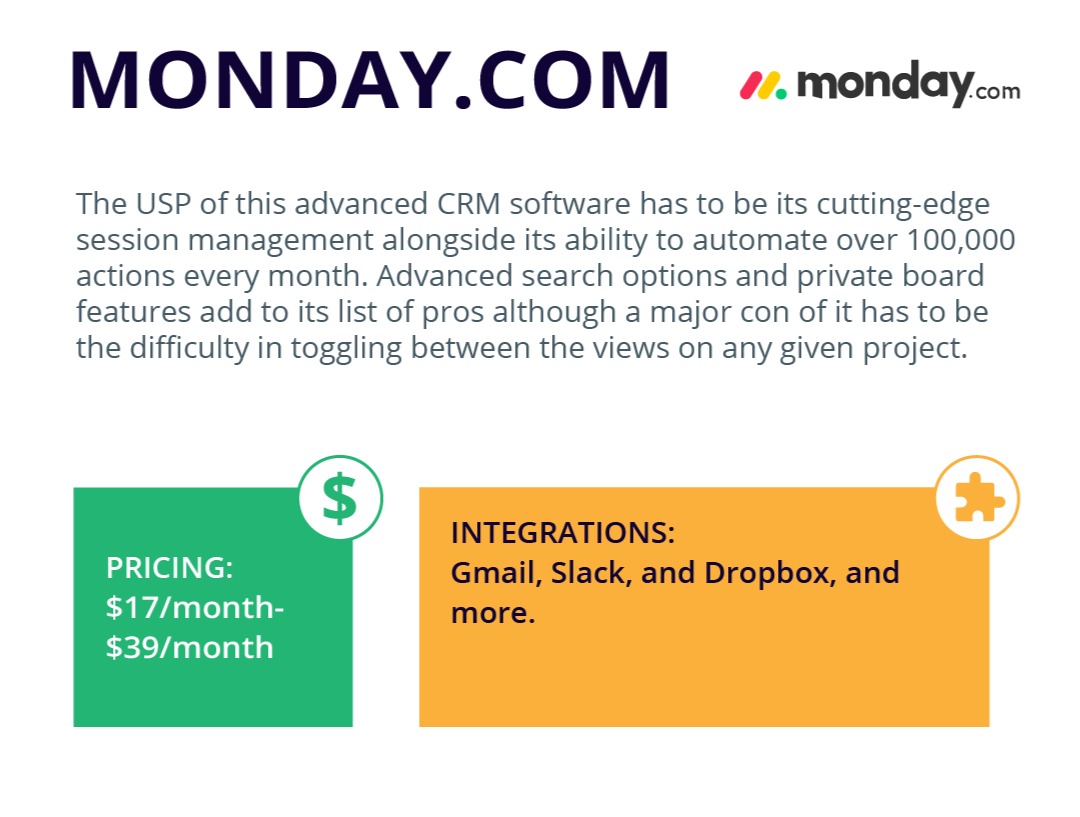 USP of this advanced CRM software has to be its cutting-edge session management alongside its ability to automate over 100,000 actions every month. You can integrate it with any major third-party apps including Gmail, Slack, and Dropbox, among others. Having a market share of 1.21%,it is priced at $17/month-$39/month along with an enterprise variant whose price has to be quoted as per requirement.
Advanced search options and private board features add to its list of pros although a major con of it has to be the difficulty in toggling between the views on any given project.
Pipedrive
Built to provide maximum output through minimum input, Pipedrive drives the sales processes of your businesses by streamlining workflows in a stable, organized, and manageable manner.
With a market share of 0.63%, this CRM is priced within the $12/month-$49/month range. You can integrate it with over 300 apps based on your need which include Slack, Gmail, Microsoft Teams, and Trello, among others.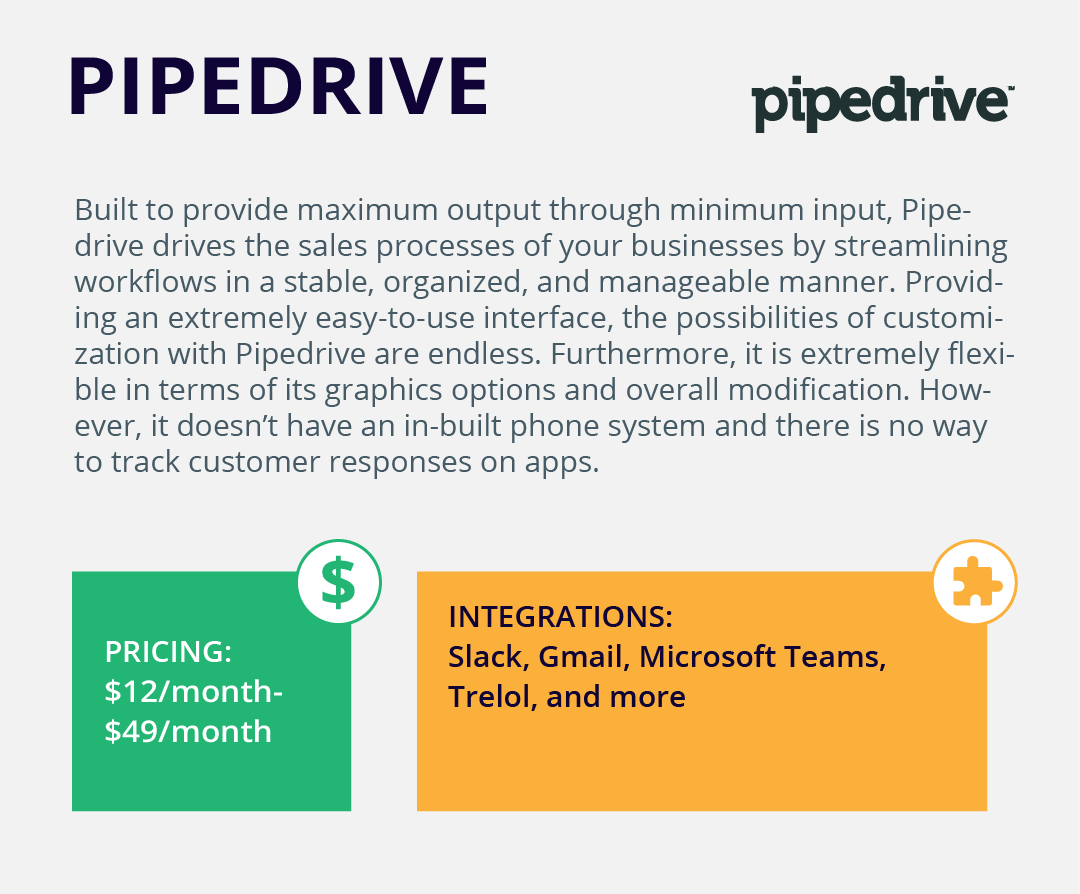 Providing an extremely easy-to-use interface, the possibilities of customization with Pipedrive are endless. Furthermore, it is extremely flexible in terms of its graphics options and overall modification. However, it doesn't have an in-built phone system and there is no way to track customer responses on apps.
Final Thoughts
The choices of CRM software are plentiful but to finalize the one among them requires smart analysis. The scale and type of your business will play a major role in making this choice.   Ideally, for large-scale businesses, SAP, Salesforce, Oracle, monday.com, and Pipedrive are suitable, whereas, for medium and small-scale ones, Hubspot and Zoho are mostly recommended.

But, don't take it as a hard and fast rule. Shape your decision based on where your business currently is and where you plan to take it.