Salesforce has revolutionized the way businesses manage their customer relationships, and with the right tools, it can further optimize business operations. In our comprehensive blog, we delve into the intricacies of 5 highly rated tools on the AppExchange that are designed to elevate your Salesforce experience to new heights. From document management to streamlined agreement processes and instant text communication, each tool plays a pivotal role in enhancing overall business efficiency and customer engagement within the Salesforce ecosystem.
Discover how these top-rated tools seamlessly integrate with Salesforce, providing a comprehensive solution for businesses of all sizes. With a focus on improved workflow management, enhanced document handling, and efficient customer engagement, this blog offers valuable insights into the functionalities and benefits of each tool, enabling businesses to make informed decisions and maximize their Salesforce potential.
Here are the top 5 tools for Salesforce: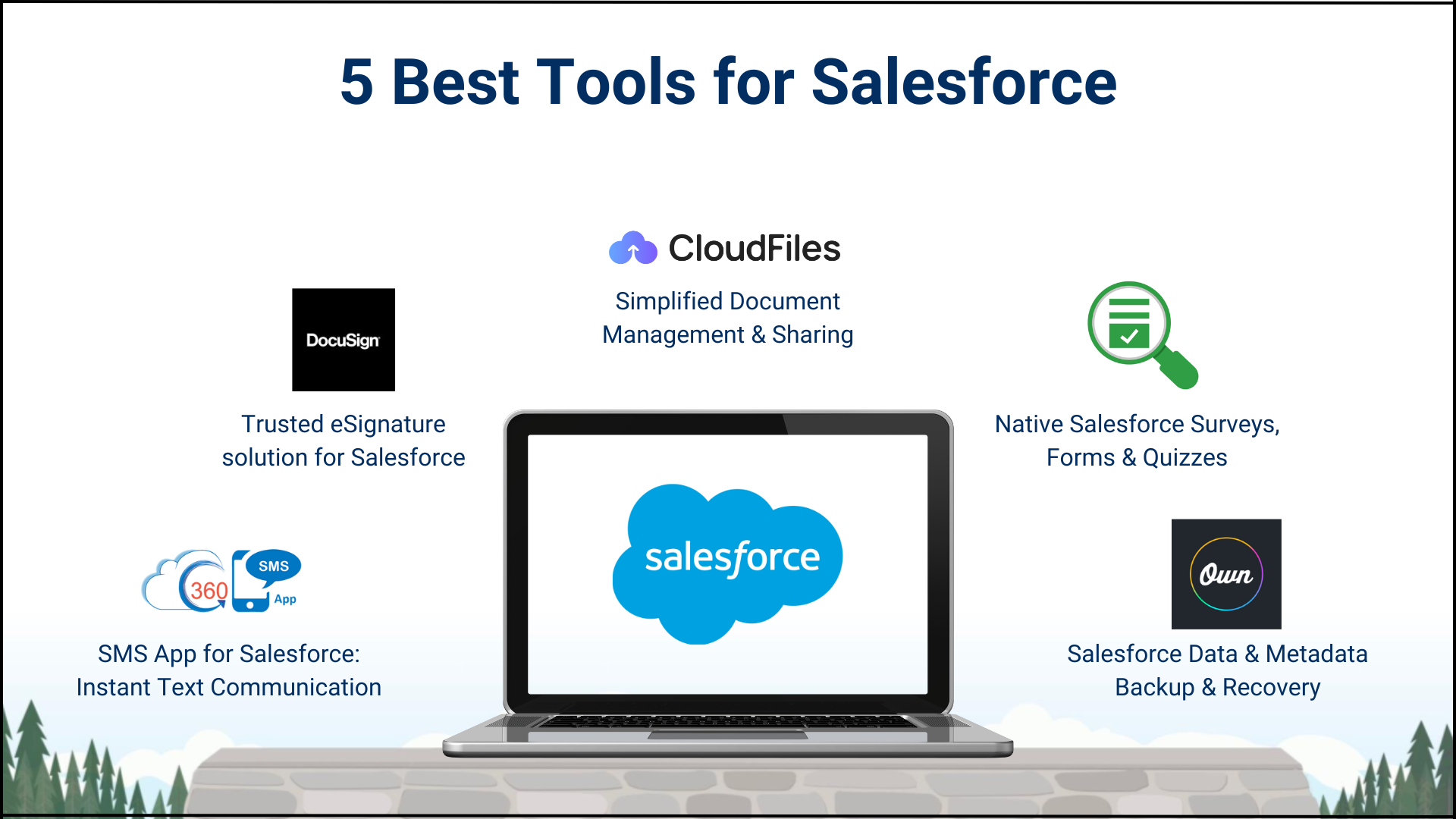 Now, let's delve into each of these tools, analyzing their functionalities and why choosing a specific tool is essential, based on an in-depth analysis of customer reviews from the AppExchange.
1. CloudFiles: Simplified Document Management and Sharing
CloudFiles streamlines document management and sharing by seamlessly integrating with various external storage platforms, including SharePoint, Google Drive, OneDrive, Microsoft Teams, and AWS S3. This integration enables comprehensive file management, including real-time 2-way syncing, allowing users to upload, preview, search, edit, and download files directly within the Salesforce environment. Businesses benefit from CloudFiles' user-friendly interface and its robust file management capabilities. Its configurable security settings and insightful analytics enable secure collaboration and comprehensive reporting, ensuring a seamless workflow and enhanced productivity.

Why should you get CloudFiles?
Users value CloudFiles for its adaptable automation controls, such as customizable flow actions and platform event triggers, empowering businesses to optimize document workflows according to specific requirements. The application's upcoming document features, including DocGPT for interactive file queries and AI-based OCR for automated data extraction, are poised to enhance document processing and data management capabilities, ensuring a more streamlined and efficient document handling experience.
Find CloudFiles on AppExchange
2. DocuSign eSignature for Salesforce: The trusted eSignature solution
Docusign facilitates the seamless preparation, signing, and tracking of agreements within Salesforce. Its robust eSignature functionality enables businesses to automate and connect the entire agreement process, enhancing the overall agreement management lifecycle. With its comprehensive integration capabilities and a wide range of applications, including over 350 integrations within the DocuSign Agreement Cloud, the platform provides a comprehensive solution for businesses seeking to streamline and optimize their agreement processes.

Why should you get DocuSign?
Businesses appreciate Docusign for its ability to handle a wide range of agreement types and streamline complex agreement processes seamlessly. The platform's comprehensive automation capabilities, including the integration of standard agreements with Salesforce records, contribute to improved efficiency and reduced turnaround time for critical agreements, leading to enhanced customer experiences and streamlined business operations.
3. 360 SMS App for Salesforce: Elevate Customer Engagement with Instant Text Communication
360 SMS App integrates seamlessly with Salesforce, offering an instant messaging solution for businesses to engage with their customers efficiently. With support for various messaging platforms, including SMS, WhatsApp, MMS, and Voicemail, the application ensures a high read rate and prompt response time, enhancing overall customer engagement.
Why should you get 360 SMS?
Users commend 360 SMS App for its ease of use and its ability to facilitate seamless communication with clients and potential customers. The platform's integrated document-sharing capabilities offer a centralized communication hub for teams, allowing for efficient management of client interactions and streamlined collaboration. Additionally, the application's intelligent surveys and follow-ups contribute to improved customer engagement and feedback collection, fostering stronger relationships and driving business growth.
4. Survey Vista (by Ardira): 100% Native Salesforce Surveys, Forms, Quizzes, and Checklists
Ardira offers custom apps on the Salesforce AppExchange, coupled with a comprehensive range of Salesforce implementation services for businesses of all sizes and Salesforce Consulting organizations. Ardera has built and published multiple AppExchange apps, including SurveyVista, myShiftTime, RelationshipVista etc. SurveyVista is a user-friendly, 100% native tool that simplifies data collection and storage within your Salesforce org. With its ready-to-use templates and customizable survey options, it streamlines the process of automating data collection with just a few clicks. Keep your data safe and secure within your Salesforce ecosystem, ensuring smooth integration and data mapping back to your Salesforce.

Why should you get Survey Vista?
The tool's flexible editions, combined with its commitment to data privacy compliance and security certifications such as HIPAA, SOC, ISO, and GDPR, make it a reliable and secure option for businesses across industries. Customers appreciate SurveyVista's comprehensive knowledge articles and helpful support resources, enabling them to maximize the tool's capabilities and seamlessly resolve any queries or concerns. With features such as automated survey distribution, response notifications, and robust reporting capabilities, SurveyVista has become the go-to survey tool for many businesses, ensuring efficient data collection and management within the Salesforce environment.
Find Survey Vista (by Ardia) on AppExchange
5. Own Recover - Salesforce Data and Metadata Backup and Recovery
Own Recover offers robust data protection solutions, safeguarding critical data and metadata with independent backups and precision repair tools. With streamlined compliance, unlimited storage, and enterprise-grade security, Own Recover ensures the availability and integrity of your data, providing peace of mind for businesses of all sizes. Own Recover's innovative features, including sandbox seeding for rapid innovation, make it an ideal choice for businesses seeking reliable and efficient data protection solutions. With easy setup and a focus on compliance and security, Own Recover simplifies the data backup process, allowing businesses to focus on their core operations without concerns about data loss or security breaches.

Why should you get Own Recover?
Customers commend Own Recover for its seamless installation process, comprehensive features, and user-friendly design, which provide added comfort in the management of critical data. The responsive onboarding support team, coupled with the tool's effective data restoration capabilities, ensures that businesses can quickly and efficiently restore data in the event of any data corruptions or accidental data loss, solidifying Own Recover as a highly recommended data protection solution.
Find Own Recover by Own Recover on AppExchange
Conclusion
In conclusion, these five top-rated tools on the AppExchange offer a wide array of functionalities designed to supercharge your Salesforce experience. From enhanced document management to streamlined agreement processes, and instant text communication for improved customer engagement, these tools provide solutions that cater to businesses of all sizes. By analyzing customer reviews and their real-world applications, we've highlighted how each tool can bring value to your Salesforce operations.
Now, it's your turn to take action. If you're ready to explore the best tool for your specific needs, or if you need guidance on how to choose the right one, don't hesitate to get in touch. Book a call with us today and "talk Salesforce to us" for expert consultation and assistance in selecting the perfect tool for your business. Your optimized Salesforce experience awaits!