According to Mordor Intelligence, Marketing Intelligence and Advisory Firm, the E-Book Market at USD 18.13 billion in 2020 is expected to reach USD 23.12 billion by 2026, registering a CAGR of 4.9% during the forecast period (2021-2026). Such e-book statistics vividly bring out the significance of e-books as one of the best marketing strategies for brands and businesses in the years to come.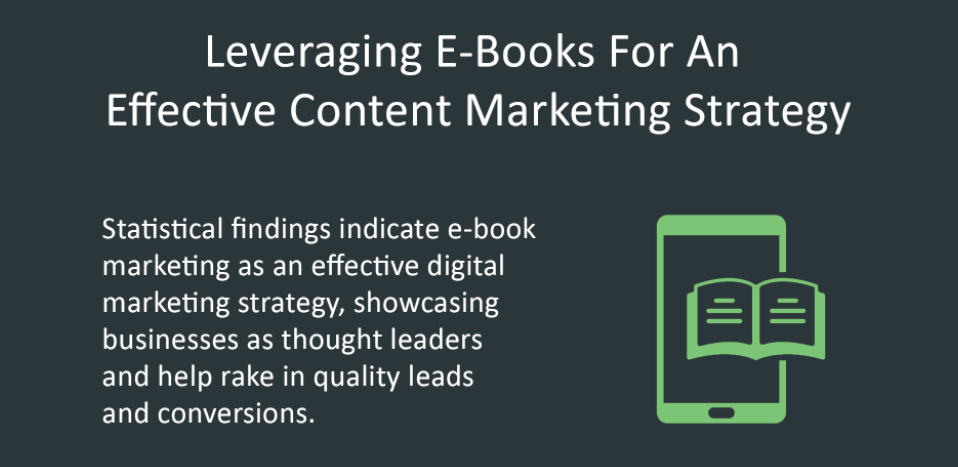 Benefits of an e-book
E-books are gaining prominence as one of the best marketing strategies. Statistical findings conform to this reality. However, to ascertain how these e-book statistics translate into better sales and higher profitability- let us delve deeper into the benefits they have to offer.
Helps build credibility
Credibility is an intangible asset for a business on which potential customers base their purchase decisions. According to psychologist Dan O'Keefe, people do not respond to a persuasive message based on content but their perception of the communicator. It brings us to one of the foremost benefits of e-books. By providing an in-depth understanding of a subject, long-form content makes individuals perceive you as an expert and a thought leader in the industry.
A survey by Demand Gen points out that buyers prefer long-form content formats like e-books and whitepapers when researching their B2B purchases. Consumers ready to effect purchases having reached the bottom of the marketing funnel turn to long-form content, where e-books hold a 30% share.
Seamless Distribution
There are numerous channels of distribution for e-books that simplify putting your thoughts across to your target customer group. For achieving the desired results, some considerations should be borne in mind while choosing the distribution channel. Some of the parameters are- feasibility, reliability, accessibility, security, and familiarity. Leverage content syndication platforms to widen the reach of your e-book- Facebook, LinkedIn, Twitter, and YouTube are the most sought-after content syndication platforms for effective marketing strategies.
Subtle marketing strategy
Traditional marketing involves pitching your products and services upfront to prospective buyers, but marketing strategies have evolved. A solid value proposition lies at the heart of conventional marketing. Customers have become more vigilant and less impulsive when it comes to parting ways with not only money but even their time. This is where e-books come in. Leading your customers through the pain point and its eventual remedy enables you to generate a quality and convertible lead.
The success of a content marketing strategy depends on its execution. Poor implementation will not get you the desired results. More important than knowing how to write an e-book is how to write an e-book that sells.
Recommendations for an all-encompassing e-book marketing strategy
To make the most out of e-books as an effective content marketing strategy, take heed of the following recommendations -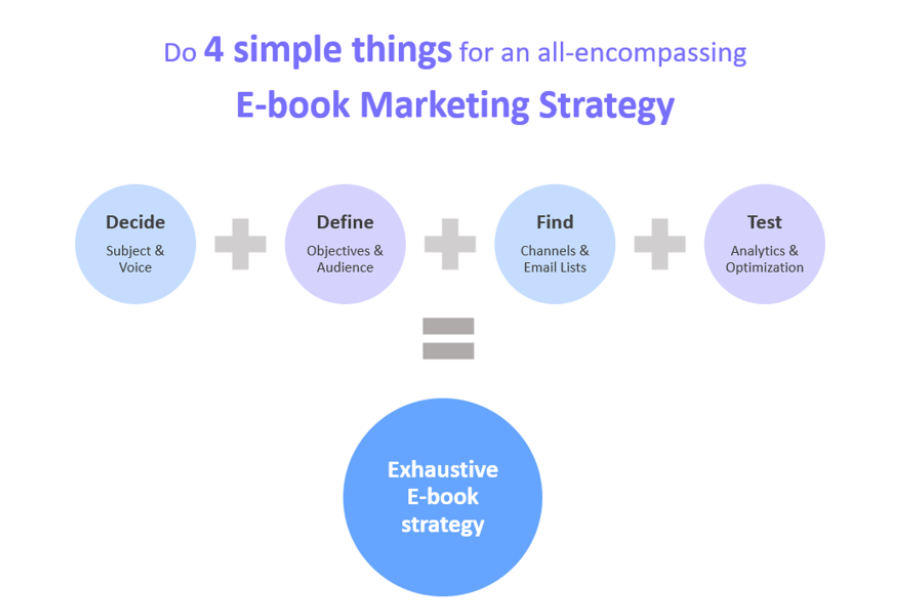 Define content business objectives
Having a clear outline in place before writing an e-book is underrated. Most businesses fail to realise that more important than hitting a sizable word count is to draft a comprehensive framework. This preliminary process in writing should cover all the questions that may arise in the reader's mind. Your target audience should be able to understand who you are and what you do. Acknowledge a customer pain point and propose an efficient solution. Mention what it is that sets you apart from tons of other businesses and brands-your unique selling point.
Define your target audience
Coming up with a fictional representation of your target audience or a buyer persona assists you in creating a connection with your ideal customers through focused content.
Businesses that can entice customers with a strong value proposition and allow for mutual gains harbour benefits through e-book marketing.
One such example is HubSpot, an inbound marketing automation software company. It has published more than 85 books, with more in the pipeline. Owing to the value it imparts to its focus audience, HubSpot has positioned itself as an industry expert and generated substantial leads.
Creating an original voice that stands out
An e-book, as an effective content marketing strategy, entails much more than a few thousand words. It should be an extension of your brand voice. Having a different perspective or a distinctive tone enables your target audience to distinguish you from a bazillion other brands and businesses.
Seth Godin, an entrepreneur, best-selling author and speaker, writes and speaks about all things marketing. Through his free e-books, he has been able to further his position as an expert in the field.
Finding best channels for promotion
Omnichannel marketing strategies have become a thing of the past. Most businesses resort to multi-channel marketing as an effective digital marketing strategy. This brings us to the promotional aspect of writing an e-book. To build the anticipation before the release and maintain the buzz even after the publishing phase- leverage multiple channels to market your content. Interact with your audience on a variety of platforms to garner maximum reach.
Testing to gauge success or failure
Testing or being able to quantify your success in business is essential. You can gauge your success by analysing sales, leads, consumption, and engagement of your content. This paves the way for future growth and ample room for improvement. The inability to discern what works and what does not work for your business will inevitably lead to the failure of your content marketing strategies. An excellent way to do this is to utilise analytical tools and software.
E-Book Marketing Mistakes to Avoid
It is essential to understand what should be done when writing an e-book- it is equally important to understand the pitfalls you need to sidestep in your journey. Here are a few mistakes you should avoid.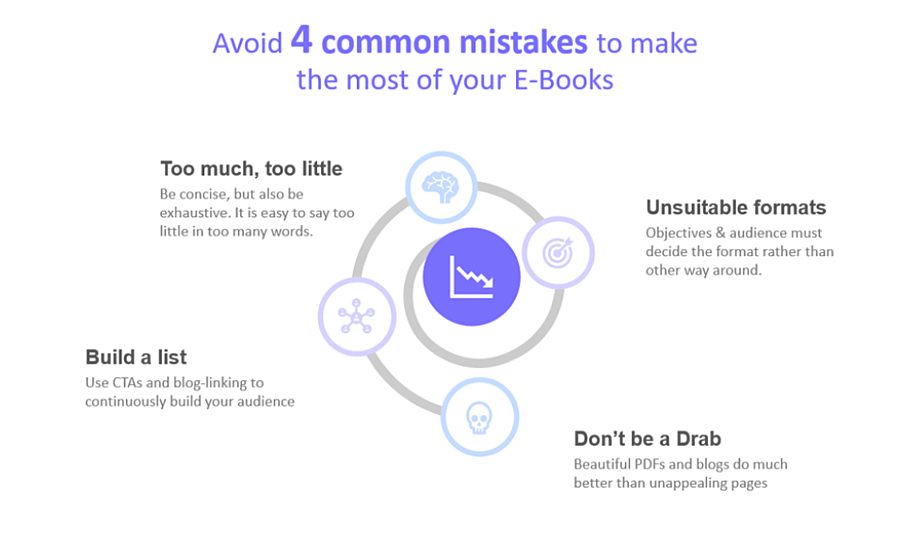 Opting for an unsuitable e-book format
One of the most common mistakes businesses or brands make when choosing an e-book format is to place their discretion on what others are doing. The intention behind writing an e-book differs from one entity to another. Depending upon the intent and nature of your target audience, you can choose from a range of formats. Some of them are-
PDF - Common among marketers but are not best suited for small screens.
EPUB - It is more interactive than PDF and allows room for animation.
MOBI - It is mostly found in Kindle now and has been replaced by the AZW format.
TXT - This is a text-rich format and offers no interactivity.
Too little or too much information
Ensure that your e-book solves all the customer pain points mentioned at the very outset. However, do not cram too much information into a single book that baffles the readers. Try to serve enough value while also leaving your readers wanting more. The crux is neither under-deliver nor over-deliver.
Failure to link and build an email list
If the idea behind writing an e-book is to create brand recognition and lead generation, then linking is indispensable. Make it a point to link your blog or company website to achieve your marketing objective. Add relevant CTAs but be subtle about it. E-book marketing enables organisations to get access to the email addresses of target customers. Building an email list of your potential customers helps you send targeted emails straight to their inboxes.
Marketing statistics published by HubSpot support this view. It said- email nurtured leads generated 50% more leads at the bottom of the funnel. It did this at a 33% lower cost. Further, nurtured leads account for a 20% increase in sales opportunities.
Drab and not Appealing
For your audience to dive deep into the content you are offering- they need to be first attracted to your product in the first place. An e-book that lacks visual or textual content does not garner attention to your business and will not rake in profits. Professional designers or online tools can save you from looking amateurish and unreliable to your target audience.
To bridge the intention gap through effective implementation of marketing strategies is crucial for their success. Incorporate the suggestions to yield positive results for your business through better leads and conversions.