Introduction
B2B sales prospecting is a delicate process with perpetuated decision-making cycles and multiple painful follow-ups. Email campaigning is the global winner of outbound prospecting, but the low performance of email campaigns is a bummer. Nevertheless, the process of prospecting and closing the deal through email campaigns is agitating.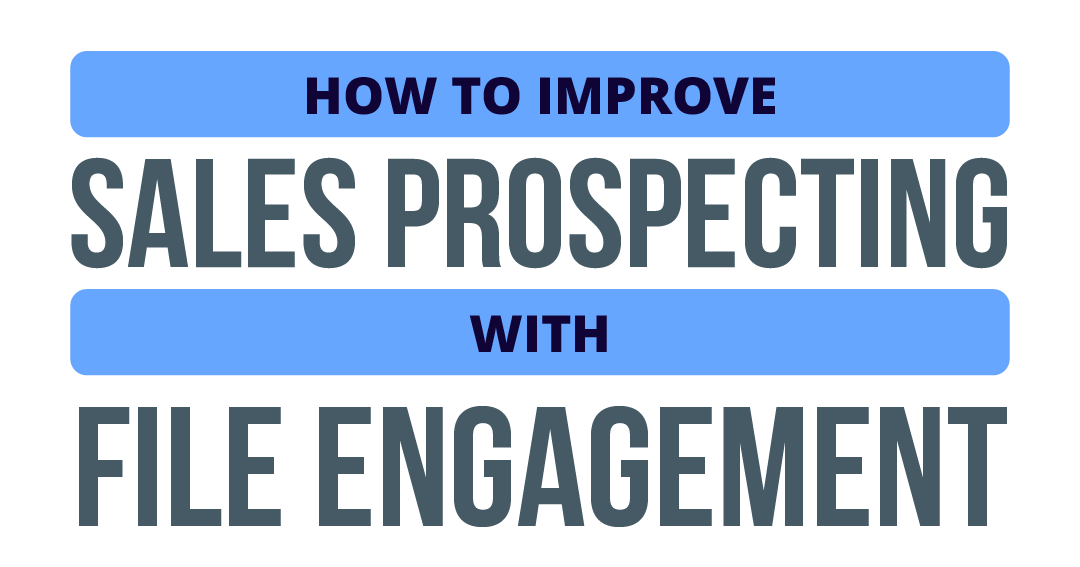 According to a 2014 study, outbound sales prospecting methods including email prospecting fared poorly with a 0.1% conversion rate. The same survey revealed that it takes 84 days to convert a lead into an opportunity.
Despite numerous evolving communication channels, email campaigning is still the preferred mode of prospecting and marketing. However, the email conversion rates dropped to 15.67% in 2020 and 15.22% in 2021 from 17.39% in 2016. The conversion rate further dropped to an abysmal 1.33% against the total number of emails sent in the same time duration.
Emails and files - the primary B2B sales tools?
There is a common misconception that the potential of emails has waned with the emergence of new-age prospecting channels like social media. However, with $36 ROI for every $1, emails and files generate astounding results for your marketing campaigns.
80% of experts reiterate that they use emails for customer retention, sales generation, lead nurturing, and direct communication with businesses. The below statistics reflect an active email user base and its potential as a B2B sales tool.
According to estimates, emails drive an estimated average ROI of 4400%, which amounts to $44.25% ROI on every $1 marketing expenditure.
In 2020, the number of active email users was 4 billion and it is predicted to hit 4.6 billion by 2025. Hence, emails will become the number one communication, prospecting, and sales tool with the significant target demographic using emails for business communication.
Almost 80% of B2B marketers concur that email is their second-most popularly used tool for content marketing.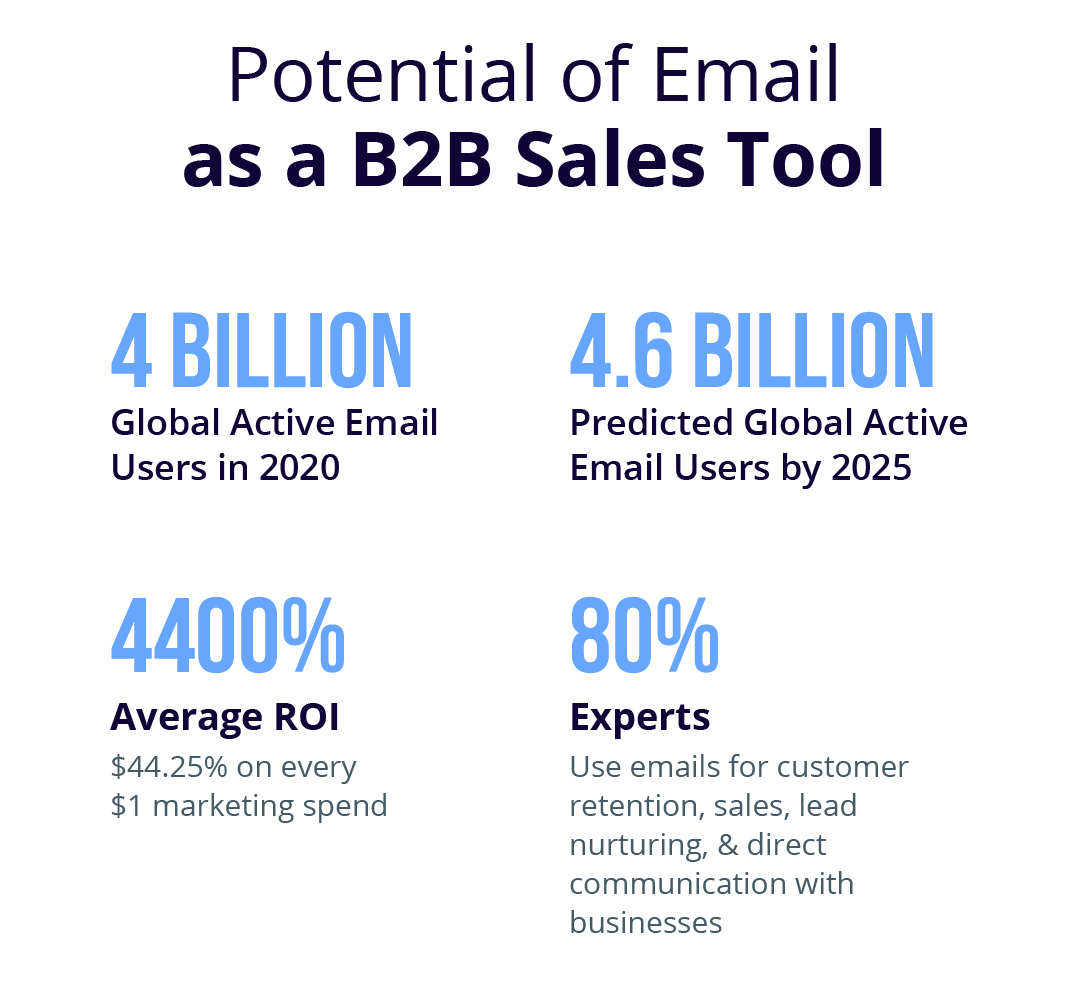 Even though social media is an economical solution for sales prospecting, lead generation, and relationship building, a personalized and creative email pitch compels greater engagement. Increased engagement leads to increased lead generation, resulting in a higher conversion rate.
Inaccuracies of Email Metrics
Businesses and marketers usually rely on email metrics to assess consumer behavior, content interaction, and consumption patterns and evaluate their email marketing campaigns.
Overly relying on email metrics can be counter-productive. Email metrics' inaccuracies like false opens and clicks misinterpret consumer engagement patterns. Email services deploy bots and filters to filter, organize, and manage the mailboxes, which are not 100% reliable.
These engagement metrics only represent the clicks and opens and not the actual time the consumer spends engaging with the content. Therefore, a reliable file analytics tool or service will help you see a clearer picture. In addition, it helps you with rich insights and accurate engagement metrics.
Apple's new iOS 15 update is a positive move in the direction of enhanced consumer privacy. However, it might cripple the marketing efforts of businesses. The new Mail Privacy Protection policy prohibits the senders from accessing the email engagement metrics if the receiver uses an Apple device to access the mailbox.
The change also impacts metrics like email open rate, engagement time, and the location of the viewer. For example, the 'Hide my Email' feature creates fake ids to hide the email address of original recipients. It may count as 'multiple opens.' It is difficult for email metrics to track and report these fake opens, which ultimately impacts your decision-making.
You need a reliable and highly efficient tracking system for accurate results. Cloudfiles' analytics mechanism distinguishes between genuine viewers and fake or bot views. Hence, despite Apple's new changes, you can access the file analytics like viewers, individual sessions, their location, and personal details.
Advanced Sales Prospecting through File Analytics
Better content engagement insights
Regular email engagement metrics involve open and click-through analytics alone. These metrics help you understand how many of your prospects responded to your emails. But, they do not provide an insight into the consumer or receiver's response to your pitch or content.
CloudFiles content engagement analytics include the region of access, viewers and their mail ids, time spent on the mail, click through, and navigation.
Regularly used email metrics do not provide such rich insight into the consumer's behavior or interaction with the file. You can export the analytics to compare it with your previous prospecting campaigns and improve future campaigns for better results.
Access email IDs and assess their interest
CloudFiles allows you to access the email ids of people viewing the file. Access to email ids enables you to communicate with employees and employers working at different levels of the organization. You can capture the individual and collective interests, which helps you understand the organizational goals. It further helps align your sales pitch or content with the goals and interests of the organization.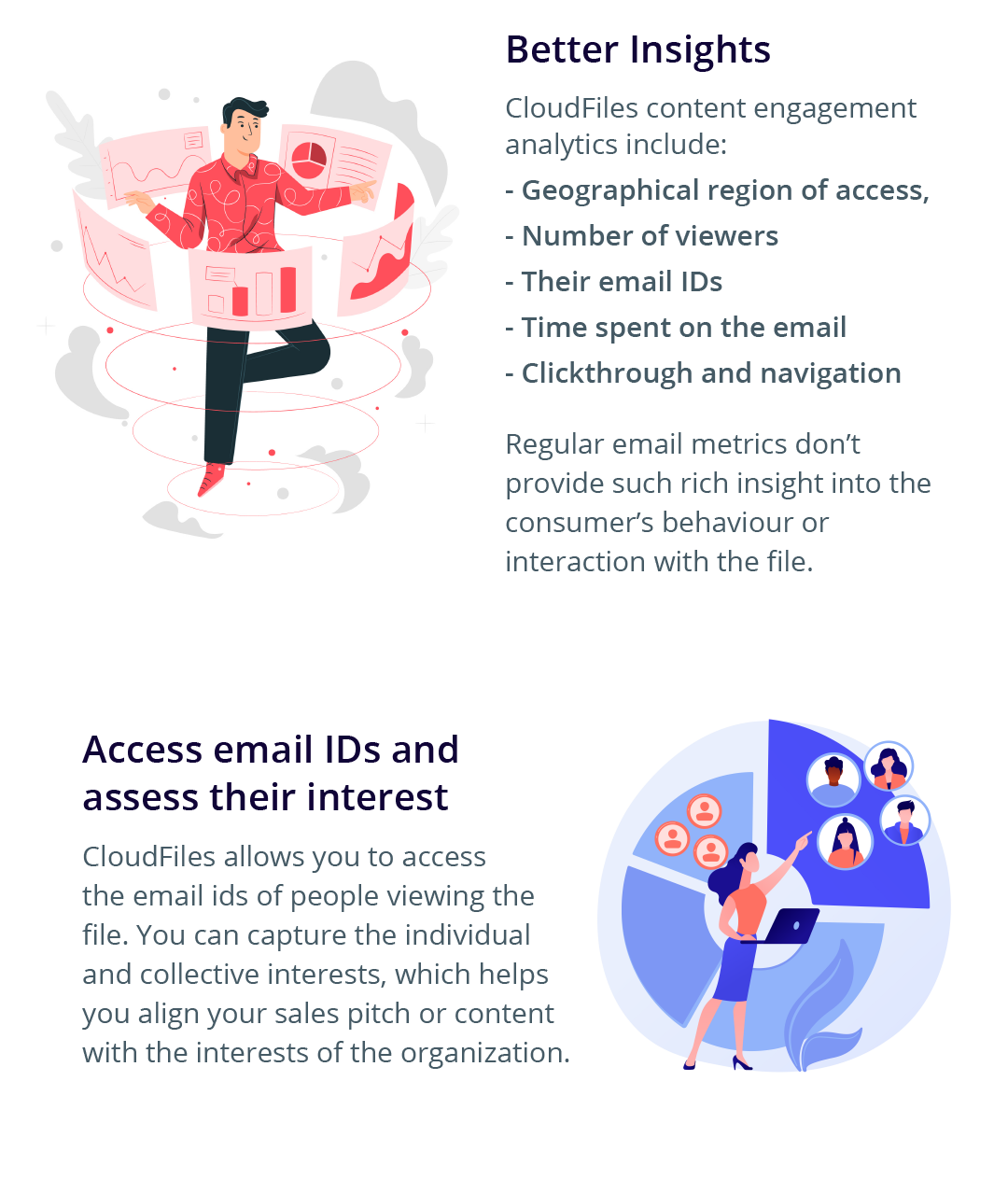 Automations to follow up
CloudFiles allows campaign tracking either gated or ungated content analytics for better security mechanisms and to maintain your data confidentiality.
CloudFiles automatically updates the analytics record with details like the timeline of events, viewer information, time spent engaging, and the number of views. Since it tracks both external and internal interactions, it becomes easier to build streamlined workflows and craft refined pitches.
Prioritize leads
An automated list of viewer analytics allows you to prioritize your leads. Since CloudFiles provides viewer information like time spent on the file, navigation, and click-through, you can understand who is most interested in partnering with you.
People who spent more time and navigated through multiple pages/links are undoubtedly interested in you. This automated list updating helps you identify your leads' interests and follow them up before your competitors do.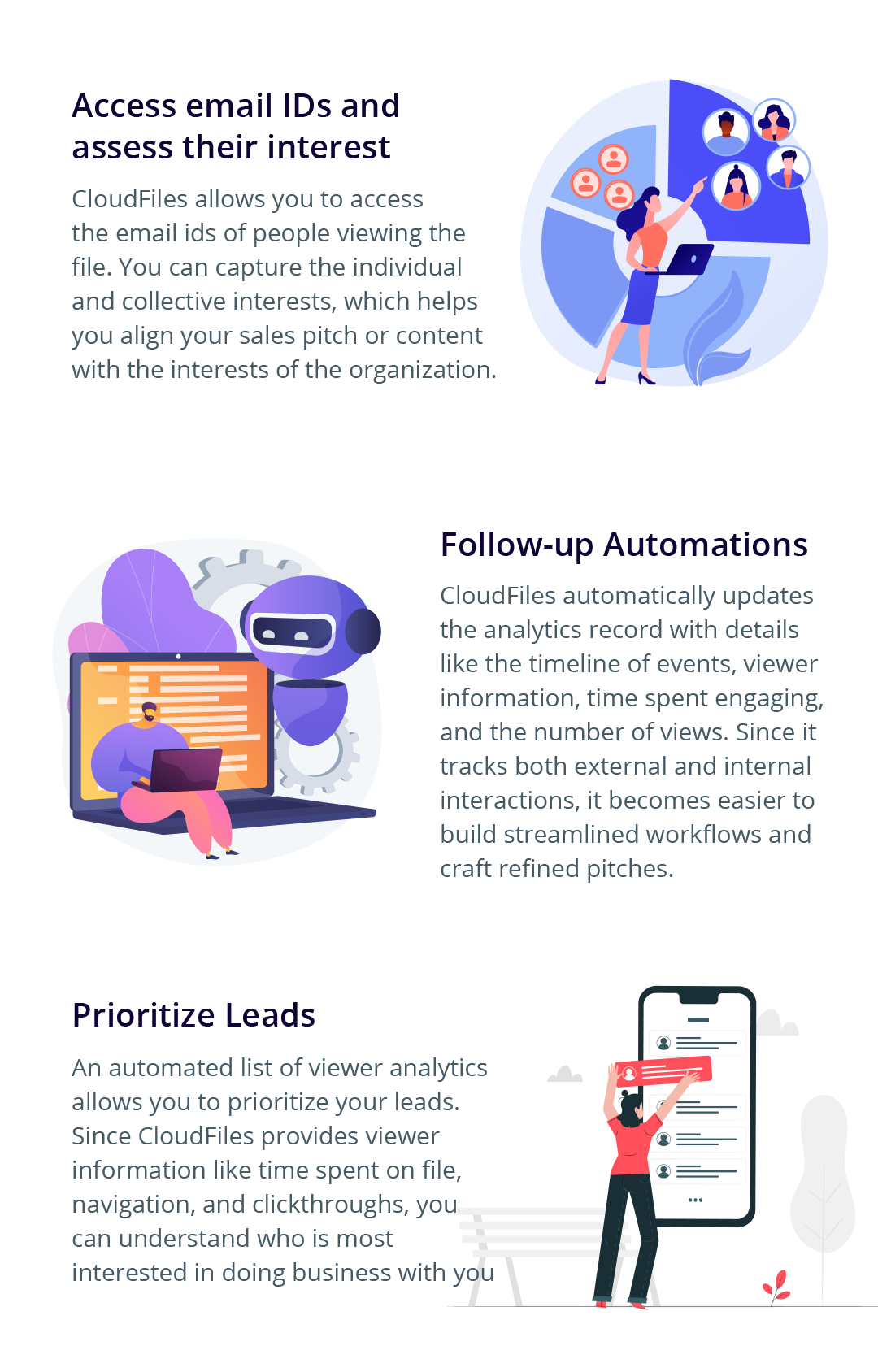 Conclusion
Despite email being a primary communication and sales prospecting channel businesses use, sadly, the deal closure rate is low. It is because of your traditional email metric tools' inability to provide accurate content analytics.
Lack of accurate analytics leads to proposal blindness. Proposal blindness is a sales disorder in which the marketers are disarrayed about their prospect's response to the proposal.
CloudFiles fills this gap to equip marketers and salespeople with viewer status and interaction with the file. It, thus, helps them understand their interest in the business, gauge the next steps, and improvise their pitch to convert the lead.
How CloudFiles helps increase file engagement
CloudFiles is a one-stop destination for your enterprise-level file storing, sharing, analytics, and controlling or security needs. With direct access to its API, you can directly access the analytics data and file status without relying on a third party for the data.
This popular new file-sharing app has partnered with HubSpot and Salesforce to provide integrated file/link sharing and analytics services. You just have to install CloudFiles on your salesforce or HubSpot account for secured file sharing, saving, and viewing file status across your company's digital ecosystem.
You can also white-label the CloudFiles document viewer and customize your subdomain with an enterprise license. Hence, from cloud storage to file viewer analytics, CloudFiles aligns with your data sharing, storage, and security needs at an enterprise level.