Email marketing is regarded as one of the top, if not the first, choice of a marketing campaign for brands around the world owing to its success rate. The statistics also back this up since studies have shown that a staggering 89% of marketers rely on email marketing as their primary source for generating leads.
If you aren't finding success with your email marketing campaigns time after time, it is more than likely that you are doing something wrong rather than the medium not working for you. So, if you are failing to turn your subscribers into customers, then you have landed yourself at the right place since we are here to help you figure out how and where exactly you going wrong.
Remember, getting the email address of your leads is only the beginning of your marketing process. Email marketing has an excellent ROI (Return on Investment) when executed correctly. Therefore, to help you recover from some common mistakes, we have compiled this list for you to go through. So, get ready to give your email marketing a makeover.
You might be committing one or a bunch of the following mistakes. So, go through them and then run them under any sample marketing email of yours to come to the fact of the matter.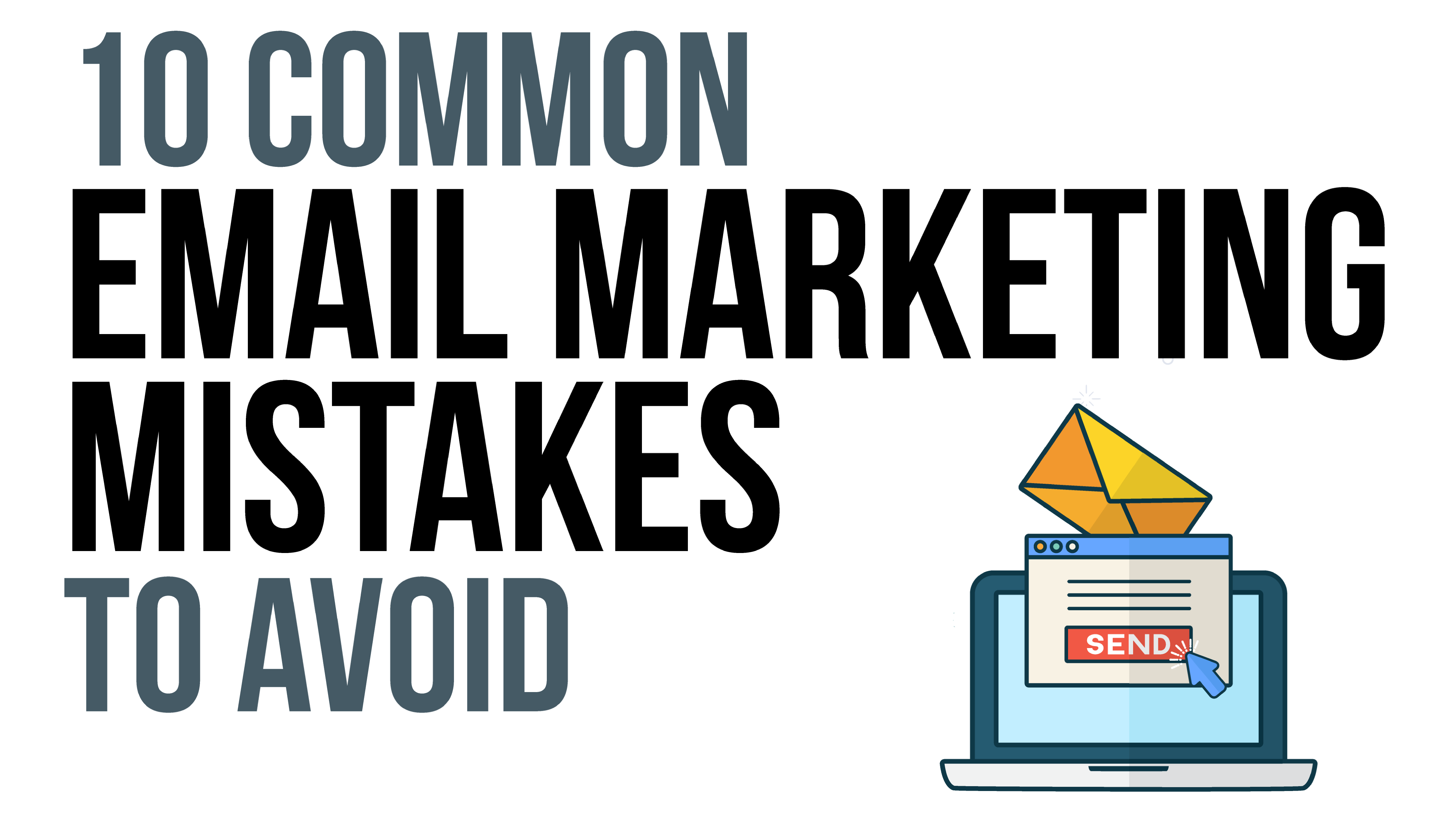 Overhyped or Lacklustre Subject Lines
In 2020, around 306.4 billion emails were sent and received each day worldwide, and this number will increase to 376.4 billion by 2025. So, it is pretty apparent that you receive a bunch of emails every single day and it is not possible to go through all of them.
So, it is imperative that you grab their attention with an interesting and proper subject line. Many marketers either undersell their subject line by stating, "Amazing offer for you", or overhype their subject as "You will stop breathing after you read this" or "Breaking news for you". It is about time you get smart about it. These simply don't work.

Many leads will only go through the subject in their inbox, which means that if you try to sensationalize your subject or be mundane about it, they'll not bother to open the mail. Try to keep it simple yet innovative. You need to get on the right foot at the start to build a positive impression.
Email Body is Too Long
Leads don't have all of their days to go through an extended essay. You are not presenting a thesis paper. So, keep it precise and short. You may have a lot to say, especially if you are launching a new product but just one look at your lengthy email, and leads will be quick to move on.

Just highlight the USP or the ongoing offer or whatever the purpose of your email is. While penning down your marketing email, brevity is what you should be looking for. That's when you get more leads on board.
Not keeping it Professional
If your leads don't respect you as a brand, the chances of conversion become next to zero. So, you have to ensure that your marketing email has a sense of professionalism in them. Yes, you can push boundaries and experiment but the structure and content shouldn't look amateurish.

If leads find an error in your email, it takes away a lot of credibility from you. Therefore, check for grammatical and spelling mistakes and avoid using stock images and attachments as much as possible. Even if you want to go colloquial, keep the language and tone healthy and professional.
Undermining the Value of Personalized Email Campaigns
Coming to the actual content of your email body, many marketers undervalue the impact of a personalized campaign. Your leads, as we said earlier, are smart today. They can see through a generic email that has been sent by you to thousands of your leads. As such, a specific individual will find it hard to connect, and in turn, respond positively, to it.

This is why launching segmented email campaigns that pertain to specific issues of your audience is necessary, as evidenced by the fact that marketers who used segmented campaigns witnessed a 760% rise in revenues. This is especially true for small businesses that comparatively have a smaller email list. You have more opportunities of tailoring your campaigns to cater to the interest level of different sects in your leads, resulting in faster conversions.
Absence of Clear Email CTAs
Each email you send to your lead has to serve a purpose – be it encouraging them to purchase a product or service or follow you on social media. You essentially have to generate action through your marketing emails.

This is where you need CTA (Call-to-Action) buttons in your email that will draw the attention of your leads and guide them to click that big, old button you have placed in your email.  So, if you are not including CTAs in your mails, then it would be very hard for you to directly rope in your leads to do your intended action. But, as with everything else, don't overwhelm them with a cluster of CTAs, which will then turn them off.
Design Elements : Image Clutter
Having visual dimensions in emails helps grab the attention of the leads. A colorful photograph or graphics undoubtedly elevate the potential of your marketing email to hit harder. It's a great way to add crispiness and clarity to the message you are sending. However, you don't want to go to a point where the images you use will become an eyesore to your leads.

Whether it is the choice of too bright colors or the presence of too many images, you don't want to appear as a tank of rainbow colors to your leads. In more cases than none, the real message gets lost then. Not to forget, many recipients block email images. So, space out your images and incorporate minimalism when it comes to using graphics.
Not Utilizing Message Previews
A message preview can help in introducing your subscribers to have an idea about the content of your email. Think of it as a lead for a news story. This gives the subscribers the choice of whether your content is worthy of their time.

You may think what if your subscribers don't open your email after going through the preview. But, trust us, your leads will appreciate this preview and in a way, this gives you an additional way to capture their attention. So, use this design element and turn it into a bonus that will serve your marketing purpose.
Email Etiquettes : Ignoring Mobile Optimization
81% of the people use smartphones to check their emails and if you don't optimize the content of your email for mobile devices, do you realize the portion of your leads that will not even be able to see what you are sending them?

You need to ensure that your leads, irrespective of which device they use to open their mails, have a seamless experience while going through your content. Yes, it might cost you additional time and money to ensure your format is mobile-friendly, but at the end of the day, it will be worth it.
Not Allowing Leads to Respond
Another big component to take note of in the design element is the presence of the "Do Not Reply" button. We understand responses from countless leads can be overbearing for you but if you don't allow the subscribers to respond to you, it creates a monotone and the engagement level hits a downward spiral.

If getting responses is too much for you, then at least include a "Contact" option. That way, your subscribers can get to a landing page where you may go through their inquiries, thus generating a healthy back-and-forth relationship.
Overstuffing Your Leads with Countless Messages
Some marketers just simply can't follow the golden rule of "less is more". If you are not stopping yourself from flooding the inboxes of your leads with emails after emails, we just want to reiterate the fact that it doesn't take subscribers to click the unsubscribe button.

Your lead should be happy to see mail from you instead of getting cluttered by the abundance of it. It is important to maintain continuous engagement; however, that doesn't translate to knocking at their doors every single day. Try and maintain a healthy frequency of the times you mail your subscribers so that they take the effort of opening it and be genuinely interested in reading about it.
Bonus Tips
Misleading Subject Lines
If in your attempt to create an edgy, smart, and innovative subject line, you outright manipulate your clients by misleading them to open your mail by letting them think something else is in it, then that might be the end of your relationship with them.
With so many competitors in the market, getting a second chance is rare. So, never attempt fate by luring your leads through a misleading email subject line that doesn't correlate with the body of your email. Once fooled, they are likely to report and unsubscribe to your emails in future.
Failing to Incite Curiosity
While putting up CTAs in your marketing email, you can't be too obvious about your intentions. Customers will see through it and will likely view it as a ploy to grab their interest. So, rather than outright selling them the product, try and focus on inciting curiosity in them as to give them.
Cater to the impulses of your clients because that will likely drive them to perform the action you intend them to do. Be crisp and innovative and  the feelings that your product will give them.
Misusing Urgency Pleas
A smart marketer knows when to utilize efficient tactics and when to pull back. If all your marketing emails scream and demand urgency from your clients, their value will naturally run its course sooner than you anticipate. Therefore, having a tunnel vision of only selling and earning profit isn't healthy.
Sure, marketing emails are the tools to gain revenue, but they are also the channels to establish and maintain relationships with your clients. It is possible that they are not in the mind to purchase every single time you launch a campaign, but what is important here is not to pressurize them with urgency, but rather to always stay in touch with them and maintain engagement.
Final Thoughts
Email marketing is an effective tool that can catch the attention of your audience, build a relationship with them, and lead them to boost your sales without burning a hole in your pocket. So, as a marketer, you need to make the most of this economical tool.

From bad strategy to poor content, your email can flop for various reasons. But giving up on email marketing instead of perfecting it will only put you two steps behind your competitors. We hope our list of the aforementioned mistakes will help you introspect and realize how to improve your current email marketing scenario. With that being said, it is time for you to fix your mistakes and get it going.